Updated: 13-Jul-22 14:26 ET


Updated: 13-Jul-22 14:26 ET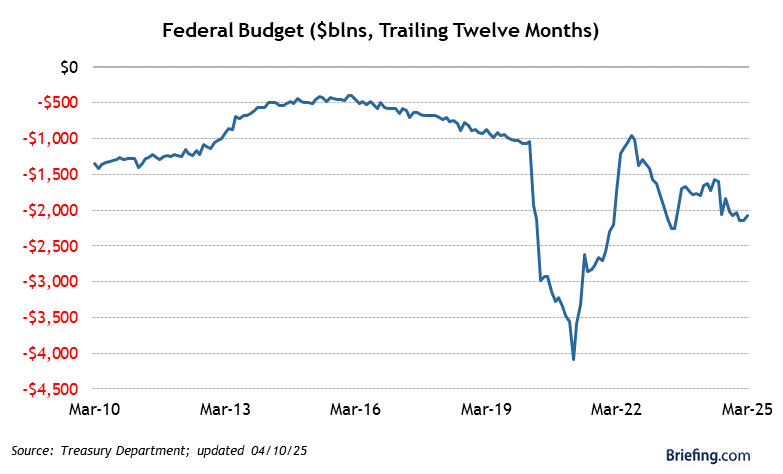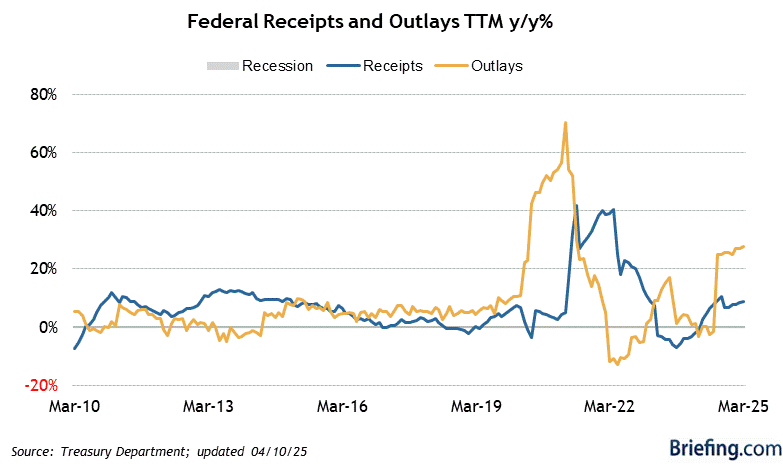 Highlights
The Treasury Budget showed an $88.8 bln deficit in June versus a $174.2 bln deficit in the same period a year ago.
The budget data is not seasonally adjusted, so the June deficit cannot be compared to the May deficit of $66.2 bln.
Key Factors
Total receipts of $460.8 bln were $11.6 bln more than the same period last year. Individual income taxes were the largest source of receipts at $200.8 bln, followed by Social Insurance and Retirement at $146.0 bln, and corporate income taxes at $82.6 bln.
Total outlays of $549.6 bln were $73.8 bln less than the same period last year. Spending was led by $136.7 bln for Health and Human Services, $113.2 bln for Social Security, $97.9 bln for interest on debt, and $76.8 bln for other Treasury expenses.
Big Picture
The budget deficit over the last 12 months is $1.05 trln versus a deficit of $1.14 trln in May.
| | | | | | |
| --- | --- | --- | --- | --- | --- |
| Category | JUN | MAY | APR | MAR | FEB |
| Deficit (-)/Surplus | -$88.8B | -$66.2B | $308.2B | -$192.6B | -$216.6B |
| Deficit (-)/Surplus Fiscal YTD | -$515.1B | -$426.2B | -$360.0B | -$668.3B | -$475.6B |
| Deficit (-)/Surplus over last 12 months | -$1.05T | -$1.14T | -$1.20T | -$1.73T | -$2.20T |