Updated: 15-Nov-17 10:22 ET


Updated: 15-Nov-17 10:22 ET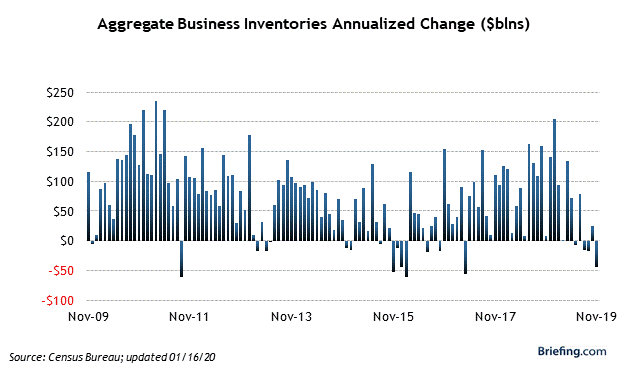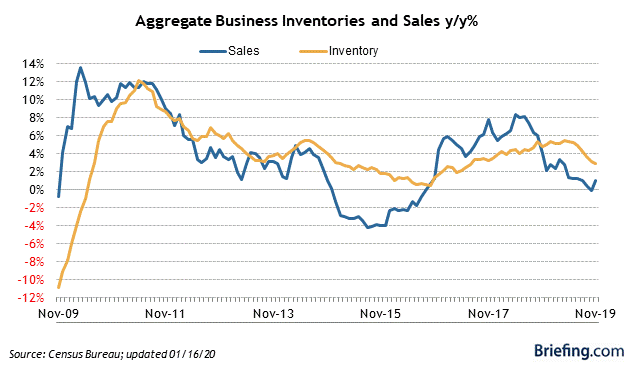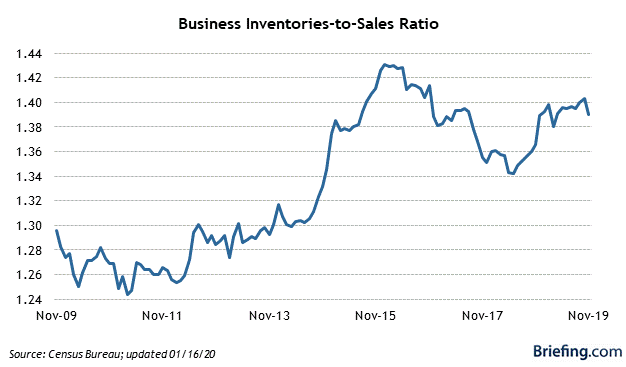 Highlights
Total business inventories were flat in September, as expected, following a downwardly revised 0.6% increase (from 0.7%) for August.
Total business sales also increased 1.4% after an upwardly revised 0.8% increase (from 0.7%) for August.
Key Factors
Manufacturers' and wholesalers' inventories were known ahead of time, so the missing variable was the report on retailers' inventories, which decreased 0.9% after increasing 0.6% in August.
The decrease in retailers' inventories stemmed in large part from a 2.4% decrease in motor vehicle & parts dealers inventories and a 0.5% decrease in inventories for food and beverage stores.
On a year-over-year basis, total business inventories are up 3.5% while total sales are up 6.4%
The inventories-to-sales ratio fell to 1.36 from 1.38 in August. This ratio stood at 1.40 at the same time a year ago.
Big Picture
The key takeaway from the report is that sales growth is outpacing inventory growth, which is a step toward regaining some pricing power.
| | | | | | |
| --- | --- | --- | --- | --- | --- |
| Category | SEP | AUG | JUL | JUN | MAY |
| Inventories | 0.0% | 0.6% | 0.3% | 0.5% | 0.3% |
| Manufacturers | 0.7% | 0.6% | 0.4% | 0.3% | -0.2% |
| Retailers | -0.9% | 0.6% | 0.0% | 0.6% | 0.6% |
| Wholesalers | 0.3% | 0.8% | 0.6% | 0.6% | 0.6% |
| Sales | 1.4% | 0.8% | 0.3% | 0.2% | 0.1% |
| Manufacturers | 0.8% | 0.6% | 0.2% | 0.1% | 0.3% |
| Retailers | 2.1% | -0.1% | 0.5% | -0.1% | 0.0% |
| Wholesalers | 1.3% | 1.9% | 0.0% | 0.6% | -0.1% |
| Inventory/Sales | 1.36 | 1.38 | 1.38 | 1.38 | 1.37 |
| Manufacturers | 1.38 | 1.38 | 1.38 | 1.38 | 1.37 |
| Retailers | 1.44 | 1.49 | 1.48 | 1.48 | 1.48 |
| Wholesalers | 1.27 | 1.28 | 1.29 | 1.29 | 1.29 |