Updated: 15-Aug-17 10:33 ET


Updated: 15-Aug-17 10:33 ET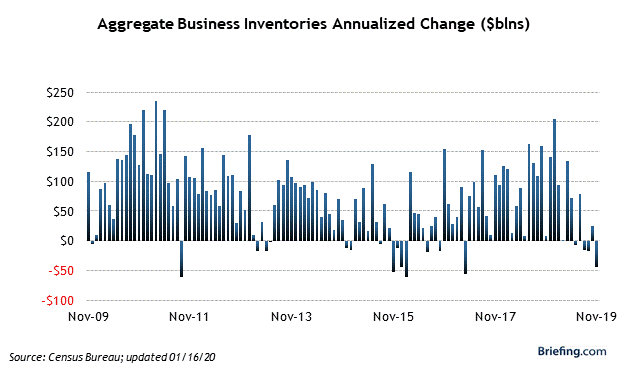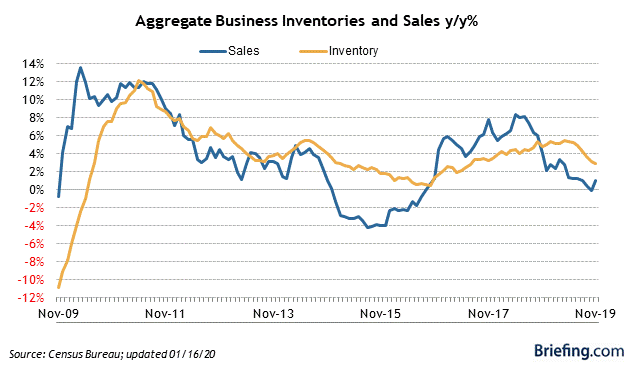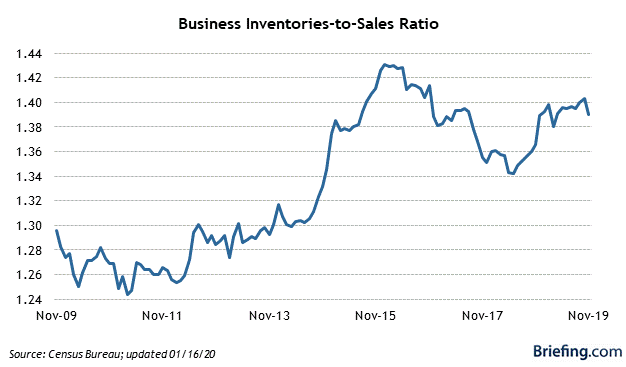 Highlights
Total business inventories increased 0.5% in June while the Briefing.com consensus expected an increase of 0.4%.
Total business sales increased 0.3% after a revised 0.1% increase in May (from -0.2%).
Key Factors
Manufacturers' and wholesalers' inventories were known ahead of time, so the missing variable was the report on retailers' inventories, which increased 0.6% after increasing a revised 0.6% (from 0.5%) in May.
The jump in retailers' inventories stemmed in large part from a 1.4% increase in furniture, home furnishings, electrical & appliance store inventories. Inventories at motor vehicle & parts dealers grew 0.7% and general merchandise store inventories also increased 0.7%.
On a year-over-year basis, total business inventories are up 2.8%
The inventory-to-sales ratio for June ticked up to 1.38 from May's revised ratio of 1.37 (from 1.38), but was down from 1.40 one year ago.
Big Picture
The key takeaway from the report is that while sales have increased, the pace of growth was below that of inventories. This means there are still some hurdles in the way of restoration of pricing power.
| | | | | | |
| --- | --- | --- | --- | --- | --- |
| Category | JUN | MAY | APR | MAR | FEB |
| Inventories | 0.5% | 0.3% | -0.2% | 0.2% | 0.3% |
| Manufacturers | 0.2% | -0.2% | 0.0% | 0.2% | 0.2% |
| Retailers | 0.6% | 0.6% | -0.2% | 0.2% | 0.3% |
| Wholesalers | 0.7% | 0.6% | -0.4% | 0.1% | 0.3% |
| Sales | 0.3% | 0.1% | 0.0% | -0.1% | 0.3% |
| Manufacturers | -0.2% | 0.3% | 0.0% | -0.2% | 0.3% |
| Retailers | 0.3% | 0.0% | 0.4% | 0.1% | -0.2% |
| Wholesalers | 0.7% | -0.1% | -0.3% | -0.2% | 0.7% |
| Inventory/Sales | 1.38 | 1.37 | 1.37 | 1.37 | 1.37 |
| Manufacturers | 1.38 | 1.37 | 1.38 | 1.38 | 1.37 |
| Retailers | 1.48 | 1.48 | 1.47 | 1.48 | 1.47 |
| Wholesalers | 1.29 | 1.29 | 1.28 | 1.28 | 1.28 |