Updated: 11-Jan-19 09:15 ET


Updated: 11-Jan-19 09:15 ET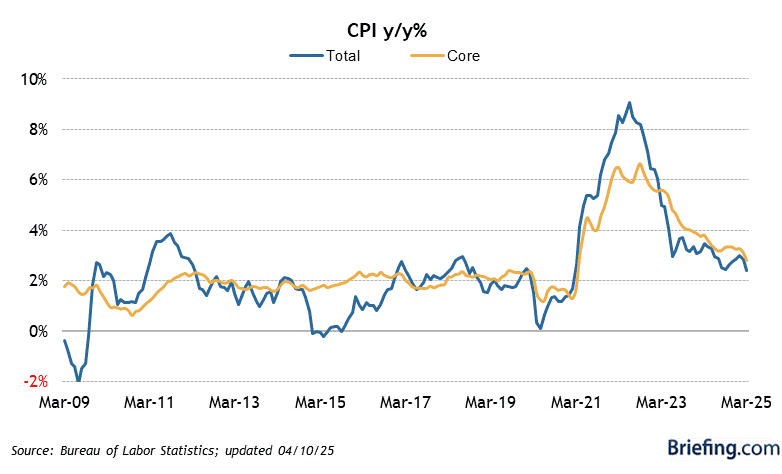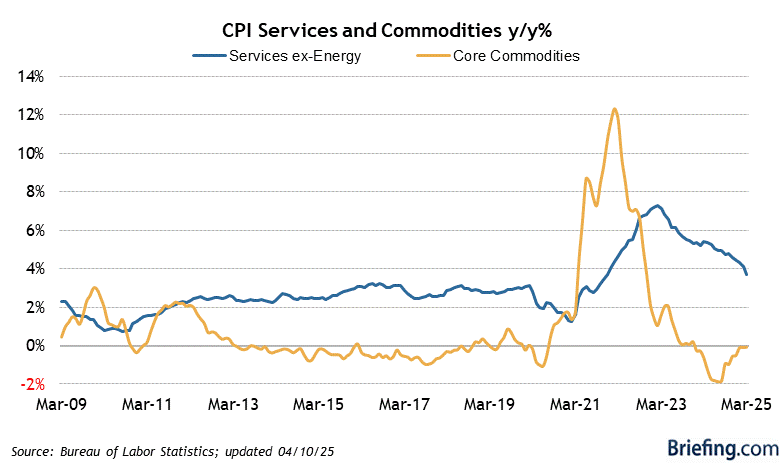 Highlights
The Consumer Price Index (CPI) for December was right in-line with the Briefing.com consensus estimates that called for a 0.1% month-over-month decline in total CPI and a 0.2% increase in core CPI, which excludes food and energy.
Key Factors
The monthly changes left total CPI up 1.9% year-over-year, versus 2.2% in November, and core CPI up 2.2%, which was unchanged from November.
The decline in total CPI in December was fueled by the energy index, which fell 3.5% on the back of a 7.5% decline in the gasoline index.
A 0.3% increase in the shelter index drove the increase in core CPI, which was offset somewhat by a 0.2% decline in the price index for used cars and trucks.
Big Picture
The key takeaway from the report is that it supports the Fed's born-again belief that it can be patient with its policy approach given that the core inflation trend is stable around the longer-run target at a time when data here and abroad is revealing some softening in economic activity.
| | | | | | |
| --- | --- | --- | --- | --- | --- |
| Category | DEC | NOV | OCT | SEP | AUG |
| All Items | -0.1% | 0.0% | 0.3% | 0.1% | 0.2% |
| Food and Beverages | 0.4% | 0.2% | -0.1% | 0.1% | 0.1% |
| Housing | 0.4% | 0.3% | 0.3% | 0.1% | 0.3% |
| Equivalent Rent | 0.2% | 0.3% | 0.3% | 0.2% | 0.3% |
| Apparel | 0.0% | -0.9% | 0.1% | 0.9% | -1.6% |
| Transportation | -2.0% | -0.8% | 1.1% | -0.3% | 0.9% |
| Vehicles | 0.0% | 0.8% | 0.7% | -1.1% | 0.1% |
| Motor Fuel | -7.5% | -4.2% | 3.0% | -0.2% | 3.0% |
| Medical Care | 0.3% | 0.4% | 0.2% | 0.2% | -0.2% |
| Educ and Commun | 0.1% | -0.5% | -0.1% | 0.1% | 0.2% |
| Special Indices | | | | | |
| Core | 0.2% | 0.2% | 0.2% | 0.1% | 0.1% |
| Energy | -3.5% | -2.2% | 2.4% | -0.5% | 1.9% |
| Services | 0.3% | 0.2% | 0.3% | 0.2% | 0.2% |