Updated: 11-Aug-17 09:26 ET


Updated: 11-Aug-17 09:26 ET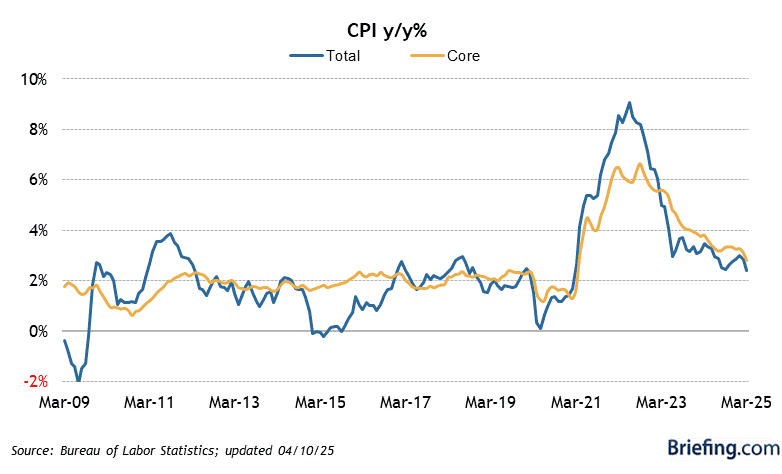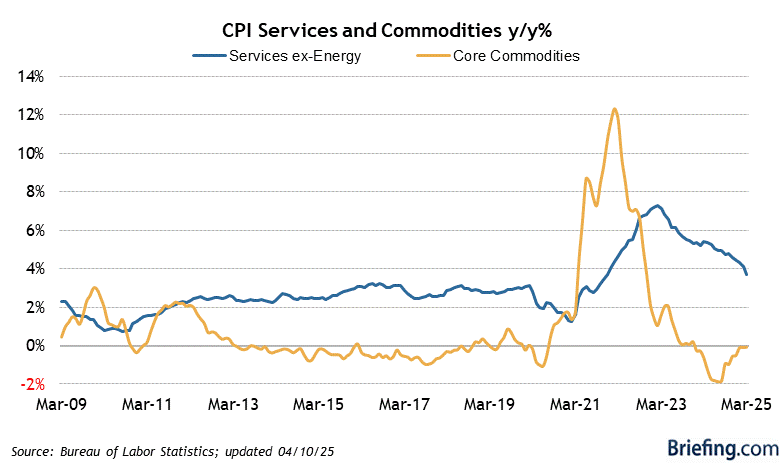 Highlights
The Consumer Price Index (CPI) report for July showed the all items index increased 0.1% (Briefing.com consensus 0.2%) while the all items index less food and energy (core CPI) also increased 0.1% (Briefing.com consensus 0.2%).
Those monthly readings were below expectations and left the all items index up 1.7% year-over-year, versus 1.6% in June, and the all items index less food and energy up 1.7%, unchanged from June.
Key Factors
The energy index declined 0.1% in July and weighed on the all items index. A 0.2% increase in the food index helped act as an offset.
July was the fourth month core CPI increased 0.1%
Increases in the indexes for shelter, medical care, recreation, apparel, motor vehicle insurance, and airline fares offset the declines in the indexes for new vehicles, communication, used cars and trucks, and household furnishings
The 0.5% decrease in the index for new vehicles was the largest decline since August 2009. The 0.5% decline in the index for used cars and trucks marked the seventh consecutive decline for that index.
Big Picture
The Fed will like that there wasn't any further deterioration in consumer inflation trends, yet with its preferred PCE Price Index up just 1.4% year-over-year in June, today's CPI report isn't going to change the prevailing belief that the Fed will want to take more time to determine if inflation is picking up toward its 2.0% target on a sustained basis.
| | | | | | |
| --- | --- | --- | --- | --- | --- |
| Category | JUL | JUN | MAY | APR | MAR |
| All Items | 0.1% | 0.0% | -0.1% | 0.2% | -0.3% |
| Food and Beverages | 0.2% | 0.0% | 0.1% | 0.2% | 0.3% |
| Housing | 0.1% | 0.1% | 0.2% | 0.3% | 0.1% |
| Equivalent Rent | 0.3% | 0.3% | 0.2% | 0.2% | 0.2% |
| Apparel | 0.3% | -0.1% | -0.8% | -0.3% | -0.7% |
| Transportation | -0.1% | -0.7% | -1.4% | 0.1% | -1.4% |
| Vehicles | -0.4% | -0.2% | -0.1% | -0.2% | -0.6% |
| Motor Fuel | 0.0% | -2.8% | -6.4% | 1.2% | -6.2% |
| Medical Care | 0.4% | 0.4% | 0.0% | -0.2% | 0.1% |
| Educ and Commun | -0.1% | 0.0% | 0.0% | -0.3% | -1.8% |
| Special Indices | | | | | |
| Core | 0.1% | 0.1% | 0.1% | 0.1% | -0.1% |
| Energy | -0.1% | -1.6% | -2.7% | 1.1% | -3.2% |
| Services | 0.2% | 0.2% | 0.2% | 0.2% | -0.1% |