Updated: 14-Jun-17 09:40 ET


Updated: 14-Jun-17 09:40 ET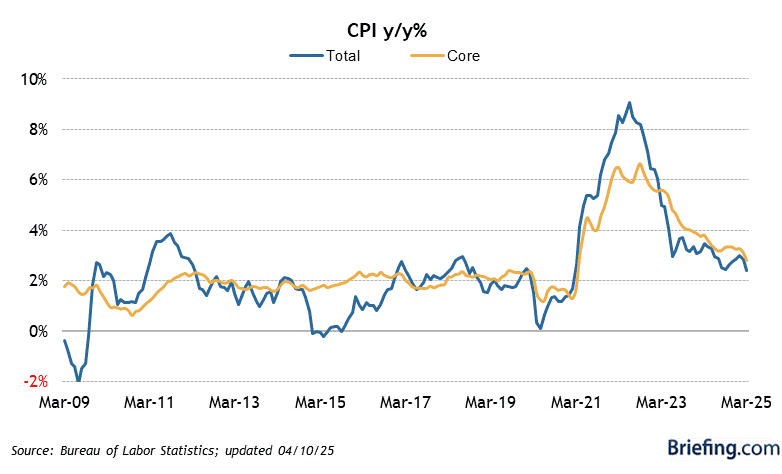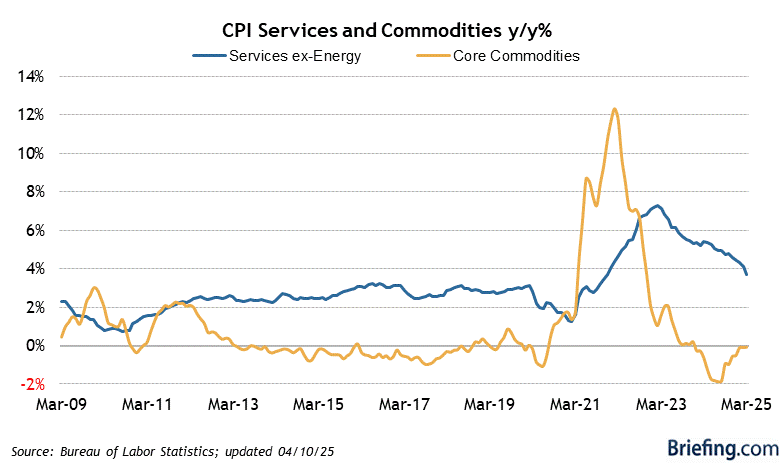 Highlights
The Consumer Price Index declined 0.1% in May (Briefing.com consensus 0.0%). The core Consumer Price Index, which excludes food and energy, was up 0.1% (Briefing.com consensus 0.2%).
Key Factors
For the 12 months ending May, total CPI on an unadjusted basis was up 1.9%, versus 2.2% for the 12 months ending April, while core CPI was up 1.7% versus 1.9% for the 12 months ending April.
Total CPI was driven lower in May by a 2.7% decline in the energy index, which was led by a 6.4% decline in the gasoline index. The food index was up 0.2%.
The increase in core CPI was paced by a 0.2% jump in the shelter index, but notably, declines were registered for many other indexes, including apparel (-0.8%) and medical care services (-0.1%)
The average annual increase for total CPI over the past 10 years is 1.6%; and for core CPI it is 1.8%
Big Picture
The key takeaway from this report is that it shows a softening trend in consumer inflation, which should presumably be some cause for concern among Fed members.
| | | | | | |
| --- | --- | --- | --- | --- | --- |
| Category | MAY | APR | MAR | FEB | JAN |
| All Items | -0.1% | 0.2% | -0.3% | 0.1% | 0.6% |
| Food and Beverages | 0.1% | 0.2% | 0.3% | 0.2% | 0.1% |
| Housing | 0.2% | 0.3% | 0.1% | 0.3% | 0.3% |
| Equivalent Rent | 0.2% | 0.2% | 0.2% | 0.3% | 0.2% |
| Apparel | -0.8% | -0.3% | -0.7% | 0.6% | 1.4% |
| Transportation | -1.4% | 0.1% | -1.4% | -0.5% | 2.2% |
| Vehicles | -0.1% | -0.2% | -0.6% | -0.1% | 0.3% |
| Motor Fuel | -6.4% | 1.2% | -6.2% | -3.0% | 7.8% |
| Medical Care | 0.0% | -0.2% | 0.1% | 0.1% | 0.2% |
| Educ and Commun | 0.0% | -0.3% | -1.8% | -0.2% | 0.0% |
| Special Indices | | | | | |
| Core | 0.1% | 0.1% | -0.1% | 0.2% | 0.3% |
| Energy | -2.7% | 1.1% | -3.2% | -1.0% | 4.0% |
| Services | 0.2% | 0.2% | -0.1% | 0.3% | 0.3% |