Updated: 12-Apr-18 09:24 ET


Updated: 12-Apr-18 09:24 ET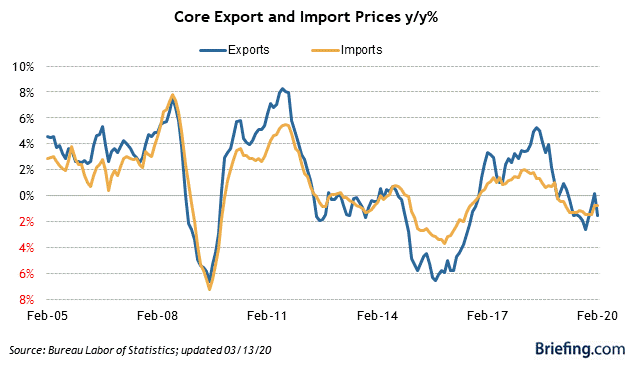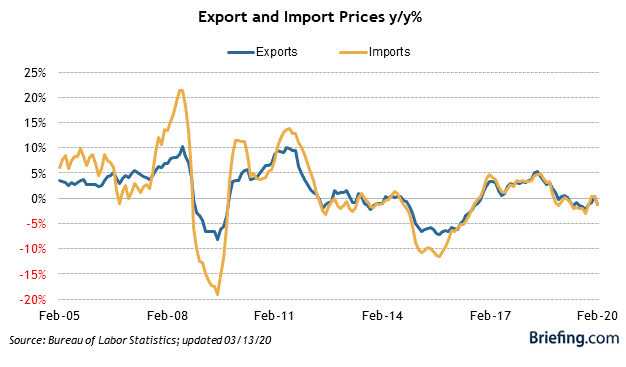 Highlights
Import prices were unchanged in March, but excluding fuel, they were up 0.2%.
Export prices were up 0.3%, but excluding agricultural products, they were down 0.1%.
Key Factors
Nonfuel import prices are up 2.1% year-over-year, which matched February for the largest year-over-year increase since February 2012
Nonagricultural export prices are up 3.4% year-over-year, versus 3.2% for the 12-month period ending in March 2017
Higher nonfuel prices offset declining prices for imported fuel (-1.6%) in March
Export prices rose for the ninth consecutive month as higher agricultural prices (+3.4%) offset lower nonagricultural export prices
Big Picture
The overall month-over-month changes are on the softer side, yet the key takeaway is that the year-over-year changes in core prices reveal a firming inflation trend.
| | | | | | |
| --- | --- | --- | --- | --- | --- |
| Category | MAR | FEB | JAN | DEC | NOV |
| Imports | 0.0% | 0.3% | 0.8% | 0.2% | 1.0% |
| Imports, ex-petrol | 0.2% | 0.5% | 0.5% | -0.2% | 0.0% |
| Imports, Petrol | -1.6% | -1.0% | 3.4% | 3.3% | 9.8% |
| Exports | 0.3% | 0.2% | 0.7% | 0.1% | 0.5% |
| Exports, ex-agricultural | -0.1% | 0.2% | 0.9% | 0.1% | 0.7% |