Updated: 15-Aug-17 09:37 ET


Updated: 15-Aug-17 09:37 ET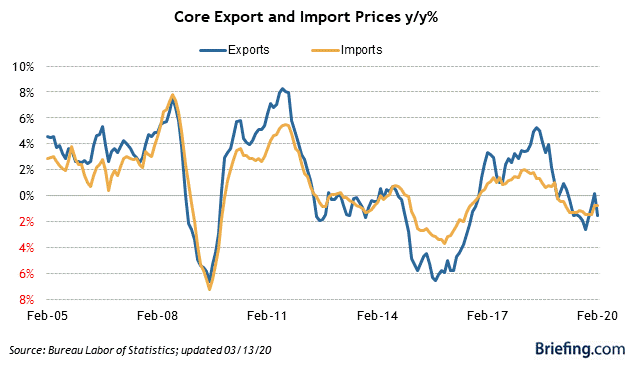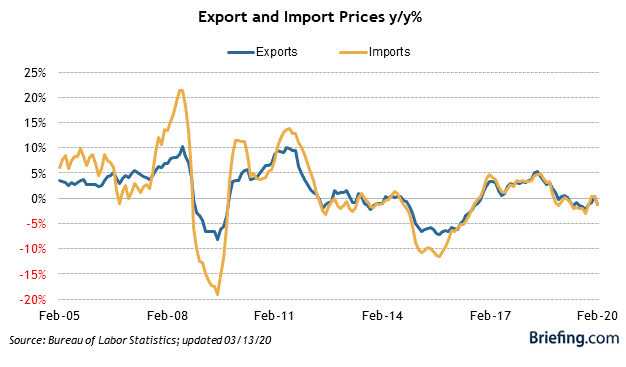 Highlights
The Import/Export Price report for July was a mixed bag as import prices ticked down while export prices increased.
Key Factors
Excluding fuel, import prices dipped 0.1%
Excluding agriculture, export prices rose 0.3%
On a year-over-year basis, import prices are up 1.5%, maintaining the growth rate from June. The June 2016-2017 increase compares to a 3.7% decline recorded between June 2015 and 2016.
On a year-over-year basis, agricultural export prices are up 0.8% versus being down 3.0% for the June 2015-2016 period. The 12-month percent change showed an uptick from June (0.6%), but remains well below its March 2017 peak of 3.4%.
Big Picture
The key takeaway from the report is that inflation readings remain low, but there are some hints of a possible turn in the near future.
| | | | | | |
| --- | --- | --- | --- | --- | --- |
| Category | JUL | JUN | MAY | APR | MAR |
| Imports | 0.1% | -0.2% | -0.1% | 0.2% | -0.2% |
| Imports, ex-petrol | -0.1% | 0.1% | 0.1% | 0.3% | 0.2% |
| Imports, Petrol | -0.2% | -2.6% | -0.9% | -0.4% | -3.0% |
| Exports | 0.4% | -0.2% | -0.5% | 0.2% | 0.1% |
| Exports, ex-agricultural | 0.3% | 0.0% | -0.4% | 0.3% | 0.0% |