Updated: 16-Nov-17 10:02 ET


Updated: 16-Nov-17 10:02 ET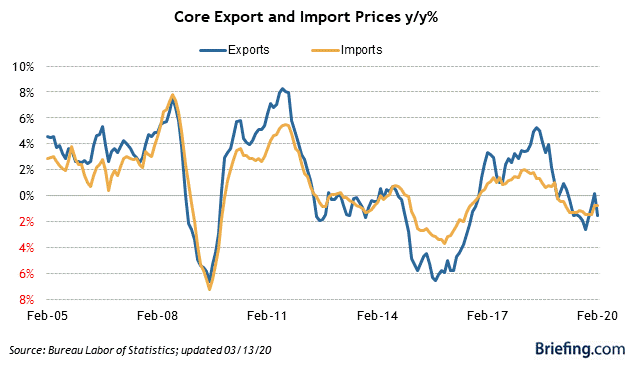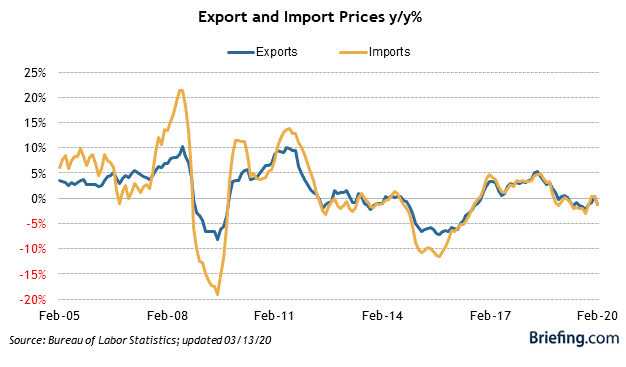 Highlights
Import prices increased 0.2% in October, driven by a 1.4% increase in the index for fuel imports. Excluding fuel, import prices were also up 0.2%.
Export prices were unchanged in October while nonagricultural export prices were down 0.3%.
Key Factors
Import prices for nonfuel industrial supplies and materials increased 0.9%, yet price declines for autos, consumer goods, and foods, feeds and beverages limited the monthly advance for nonfuel import prices
The monthly decrease in nonagricultural export prices was the first since May and was paced by lower prices for nonagricultural industrial supplies and materials and autos
Big Picture
The key takeaway from the report is that the 1.4% year-over-year increase in nonfuel import prices is the largest year-over-year increase since the year ended March 2012. Nonagricultural export prices are up 2.5% year-over-year, down from the 3.0% increase for the 12 months ending September.
| | | | | | |
| --- | --- | --- | --- | --- | --- |
| Category | OCT | SEP | AUG | JUL | JUN |
| Imports | 0.2% | 0.8% | 0.6% | -0.2% | -0.2% |
| Imports, ex-petrol | 0.2% | 0.3% | 0.3% | -0.1% | 0.1% |
| Imports, Petrol | 1.4% | 5.5% | 3.9% | -1.0% | -3.6% |
| Exports | 0.0% | 0.7% | 0.7% | 0.5% | -0.1% |
| Exports, ex-agricultural | -0.3% | 0.9% | 0.8% | 0.3% | 0.0% |