Updated: 05-Feb-21 09:48 ET


Updated: 05-Feb-21 09:48 ET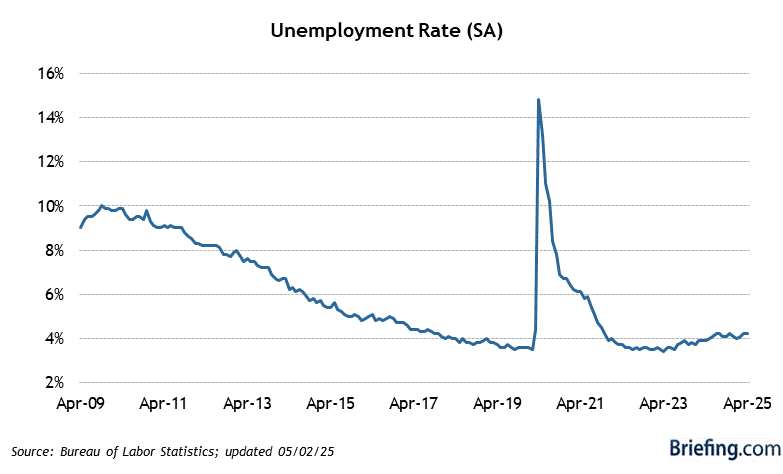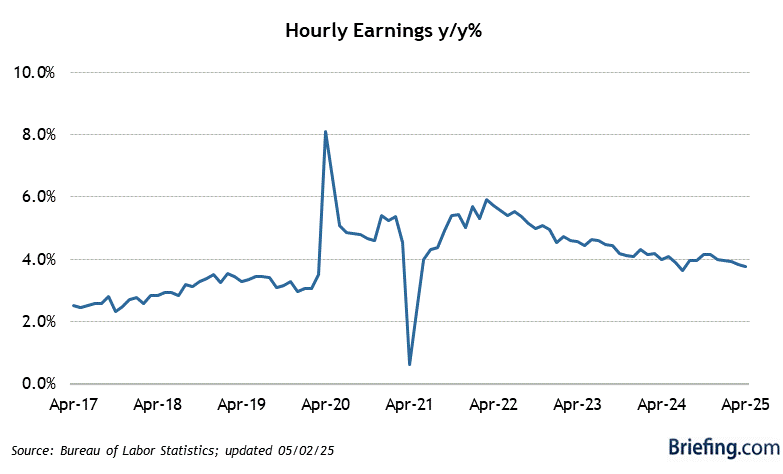 Highlights
There was minimal growth in job gains in January and long-term unemployed workers continue to account for an increasingly larger share of the unemployed (39.5%), reflecting not only the difficulty of finding a new job but also the scarring that is taking place on account of the pandemic.
Key Factors
January nonfarm payrolls increased by 49,000 (Briefing.com consensus 50,000). The 3-month average for total nonfarm payrolls fell to 29,000 from 239,000 in December. December nonfarm payrolls revised to -227,000 from -140,000. November nonfarm payrolls revised to 264,000 from 336,000.
January private sector payrolls increased by 6,000 (Briefing.com consensus 60,000). December private sector payrolls revised to -204,000 from -95,000. November private sector payrolls revised to 359,000 from 417,000.
January unemployment rate was 6.3% (Briefing.com consensus 6.7%), versus 6.7% in December. Persons unemployed for 27 weeks or more accounted for 39.5% of the unemployed versus 37.1% in December. The U6 unemployment rate, which accounts for unemployed and underemployed workers, was 11.1%, versus 11.7% in December.
January average hourly earnings increased 0.2% (Briefing.com consensus 0.3%) versus 1.0% in December. Over the last 12 months, average hourly earnings have risen 5.4%, unchanged from the 12 months ending in December.
The average workweek in January was 35.0 hours (Briefing.com consensus 34.7), versus 34.7 hours in December. Manufacturing workweek increased 0.3 hours to 40.4 hours. Factory overtime was unchanged at 3.2 hours.
The labor force participation rate dipped to 61.4% from 61.5% in December.
The employment-population ratio increased to 57.5% from 57.4% in December.
Big Picture
The key takeaway from the report is that it will paint the case in Washington for more stimulus.
| | | | | | |
| --- | --- | --- | --- | --- | --- |
| Category | JAN | DEC | NOV | OCT | SEP |
| Establishment Survey | | | | | |
| Nonfarm Payrolls | 49K | -227K | 264K | 680K | 716K |
| Goods-Producing | -4K | 76K | 68K | 107K | 91K |
| Construction | -3K | 42K | 24K | 73K | 33K |
| Manufacturing | -10K | 31K | 41K | 32K | 55K |
| Service-Providing | 10K | -280K | 291K | 847K | 841K |
| Retail Trade | -38K | 135K | -2K | 107K | 30K |
| Financial | 8K | 18K | 10K | 34K | 38K |
| Business | 97K | 156K | 95K | 241K | 140K |
| Temporary help | 81K | 64K | 39K | 121K | 18K |
| Education/Health | -7K | -31K | 43K | 83K | 68K |
| Leisure/Hospitality | -61K | -536K | 10K | 265K | 394K |
| Government | 43K | -23K | -95K | -274K | -216K |
| Average Workweek | 35.0 | 34.7 | 34.8 | 34.8 | 34.8 |
| Production Workweek | 34.4 | 34.2 | 34.2 | 34.2 | 34.1 |
| Factory Overtime | 4.1 | 4.1 | 4.0 | 3.9 | 3.8 |
| Aggregate Hours Index | 0.9% | -0.5% | 0.3% | 0.9% | 1.1% |
| Avg Hourly Earnings | 0.2% | 1.0% | 0.3% | 0.1% | 0.1% |
| Household Survey | | | | | |
| Household Survey | | | | | |
| Civilian Unemp. Rate | 6.3% | 6.7% | 6.7% | 6.9% | 7.8% |
| Civilian Labor Force | -406K | 31K | -182K | 640K | -740K |
| Civilian Employed | 201K | 21K | 140K | 2126K | 267K |
| Civilian Unemployed | -606K | 8K | -321K | -1486K | -1007K |