Updated: 10-Jan-20 09:20 ET


Updated: 10-Jan-20 09:20 ET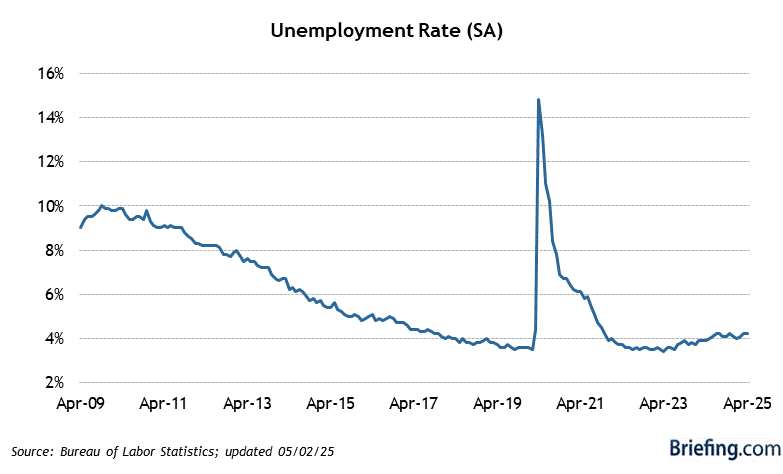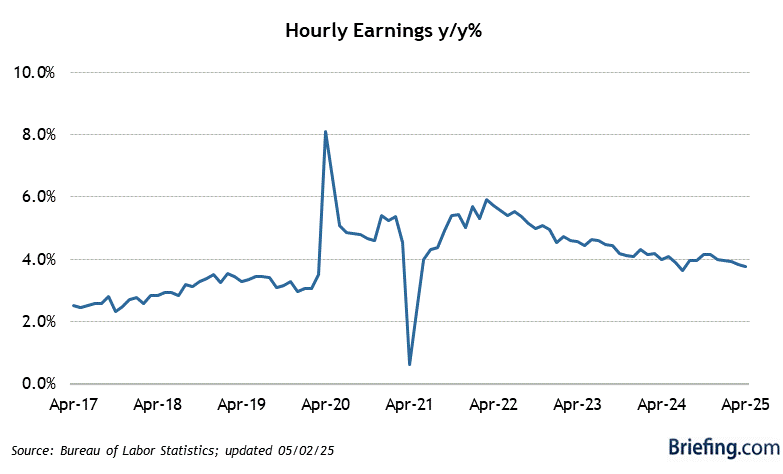 Highlights
The December Employment Situation Report was a bit weaker than expected, which in the market's mind means the Fed isn't going to be inclined to raise the policy rate soon.
Key Factors
December nonfarm payrolls increased by 145,000 (Briefing.com consensus 160,000). Job gains have averaged 184,000 over the last three months. November nonfarm payrolls revised to 256,000 from 266,000. October nonfarm payrolls revised to 152,000 from 156,000.
December private sector payrolls increased by 139,000 (Briefing.com consensus 157,000). November private sector payrolls revised to 243,000 from 254,000. October private sector payrolls revised to 164,000 from 163,000.
December unemployment rate was 3.5% (Briefing.com consensus 3.5%), unchanged from November. Persons unemployed for 27 weeks or more accounted for 20.5% of the unemployed versus 20.8% in November. The U6 unemployment rate, which accounts for unemployed and underemployed workers, was 6.7%, versus 6.9% in November.
December average hourly earnings were up 0.1% (Briefing.com consensus +0.3%) after increasing an upwardly revised 0.3% (from 0.2)% in November. Over the last 12 months, average hourly earnings have risen 2.9%, versus 3.1% for the 12 months ending in November.
The average workweek in December was 34.3 hours (Briefing.com consensus 34.4) versus a downwardly revised 34.3 hours (from 34.4) in November. Manufacturing workweek remained at 40.5 hours. Factory overtime remained at 3.2 hours.
The labor force participation rate remained at 63.2% in December.
Big Picture
The key takeaway from the report, which included updates to the seasonal adjustment factors for the labor force series derived from the household survey, was that average hourly earnings and the average workweek were both weaker than expected. That may temper any inflation concerns, but at the same time it is apt to temper consumer spending activity and overall GDP growth expectations for the fourth quarter.
| | | | | | |
| --- | --- | --- | --- | --- | --- |
| Category | DEC | NOV | OCT | SEP | AUG |
| Establishment Survey | | | | | |
| Nonfarm Payrolls | 145K | 256K | 152K | 193K | 219K |
| Goods-Producing | -1K | 52K | -29K | 11K | 4K |
| Construction | 20K | 2K | 14K | 9K | 7K |
| Manufacturing | -12K | 58K | -45K | 2K | 2K |
| Service-Providing | 140K | 191K | 193K | 172K | 159K |
| Retail Trade | 41K | -14K | 31K | 12K | -1K |
| Financial | 6K | 14K | 16K | 6K | 7K |
| Business | 10K | 53K | 35K | 27K | 38K |
| Temporary help | 6K | 4K | -5K | 10K | 10K |
| Education/Health | 36K | 72K | 31K | 57K | 63K |
| Leisure/Hospitality | 40K | 38K | 70K | 56K | 48K |
| Government | 6K | 13K | -12K | 10K | 56K |
| Average Workweek | 34.3 | 34.3 | 34.3 | 34.4 | 34.4 |
| Production Workweek | 33.5 | 33.5 | 33.5 | 33.6 | 33.6 |
| Factory Overtime | 4.2 | 4.2 | 4.1 | 4.2 | 4.2 |
| Aggregate Hours Index | 0.1% | 0.2% | -0.1% | 0.1% | 0.5% |
| Avg Hourly Earnings | 0.1% | 0.3% | 0.3% | 0.0% | 0.4% |
| Household Survey | | | | | |
| Household Survey | | | | | |
| Civilian Unemp. Rate | 3.5% | 3.5% | 3.6% | 3.5% | 3.7% |
| Civilian Labor Force | 209K | -54K | 350K | 157K | 521K |
| Civilian Employed | 267K | -8K | 246K | 403K | 549K |
| Civilian Unemployed | -58K | -46K | 104K | -246K | -28K |