Updated: 06-Oct-17 10:34 ET


Updated: 06-Oct-17 10:34 ET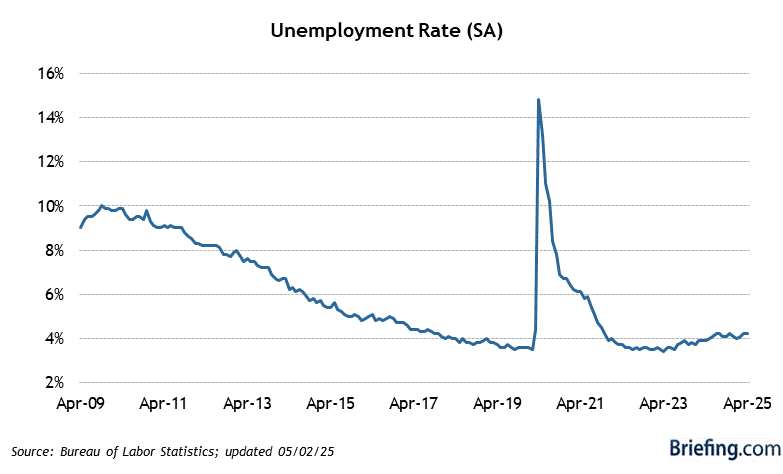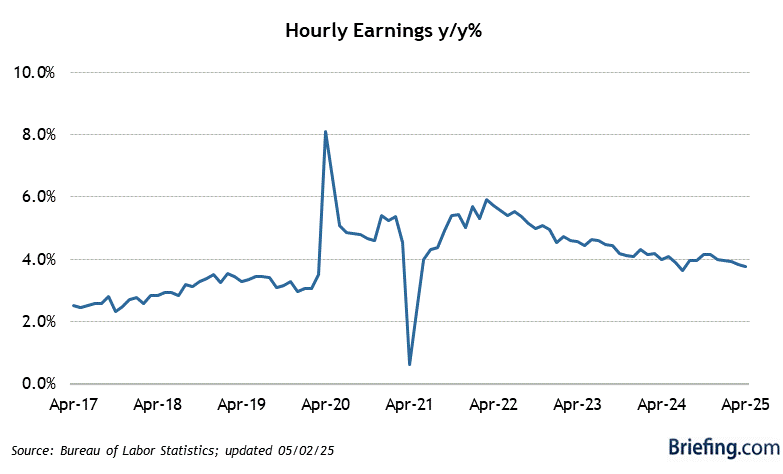 Highlights
The September employment report was "noisy" as expected due to the effects of the hurricanes. Nonfarm payrolls declined for the first time since September 2010.
Key Factors
September nonfarm payrolls decreased by 33,000 (Briefing.com consensus 75,000). Over the past three months, job gains have averaged 91,000 per month. August nonfarm payrolls revised to 169,000 from 156,000. July nonfarm payrolls revised to 138,000 from 189,000.
September private sector payrolls decreased by 40,000 (Briefing.com consensus 98,000). August private sector payrolls revised to 164,000 from 165,000. July private sector payrolls revised to 133,000 from 202,000.
September unemployment rate was 4.2% (Briefing.com consensus 4.4%) versus 4.4% in August. Persons unemployed for 27 weeks or more accounted for 25.5% of the unemployed versus 24.7% in August. The U6 unemployment rate, which accounts for both unemployed and underemployed workers, dropped to 8.3% from 8.6% in August.
September average hourly earnings increased 0.5% (Briefing.com consensus 0.2%) after increasing 0.2% in August. Over the last 12 months, average hourly earnings have risen 2.9%, which is the highest growth rate since before the financial crisis.
The average workweek in September was 34.4 hours (Briefing.com consensus 34.3), versus 34.4 hours in August. September manufacturing workweek was unchanged at 40.7 hours. Factory overtime was unchanged at 3.3 hours.
The labor force participation rate was 63.1% in September versus 62.9% in August
Big Picture
The hurricane-related noise of the September employment resonated in the headline payroll numbers, yet the most important takeaway from the report is that wage growth picked up nicely in September and should solidify the case for another rate hike in December.
| | | | | | |
| --- | --- | --- | --- | --- | --- |
| Category | SEP | AUG | JUL | JUN | MAY |
| Establishment Survey | | | | | |
| Nonfarm Payrolls | -33K | 169K | 138K | 210K | 145K |
| Goods-Producing | 9K | 66K | -20K | 42K | 13K |
| Construction | 8K | 19K | -9K | 15K | 7K |
| Manufacturing | -1K | 41K | -11K | 21K | 0K |
| Service-Providing | -49K | 98K | 153K | 165K | 140K |
| Retail Trade | -3K | -7K | -11K | -4K | -10K |
| Financial | 10K | 8K | 11K | 15K | 10K |
| Business | 13K | 43K | 43K | 44K | 50K |
| Temporary help | 6K | 8K | 13K | 11K | 15K |
| Education/Health | 27K | 45K | 51K | 40K | 37K |
| Leisure/Hospitality | -111K | 0K | 50K | 38K | 33K |
| Government | 7K | 5K | 5K | 3K | -8K |
| Average Workweek | 34.4 | 34.4 | 34.4 | 34.5 | 34.4 |
| Production Workweek | 33.6 | 33.6 | 33.7 | 33.7 | 33.7 |
| Factory Overtime | 4.4 | 4.4 | 4.4 | 4.3 | 4.2 |
| Aggregate Hours Index | -0.1% | 0.2% | -0.2% | 0.5% | -0.2% |
| Avg Hourly Earnings | 0.5% | 0.2% | 0.5% | 0.2% | 0.1% |
| Household Survey | | | | | |
| Household Survey | | | | | |
| Civilian Unemp. Rate | 4.2% | 4.4% | 4.3% | 4.4% | 4.3% |
| Civilian Labor Force | 575K | 77K | 349K | 361K | -429K |
| Civilian Employed | 906K | -74K | 345K | 245K | -233K |
| Civilian Unemployed | -331K | 151K | 4K | 116K | -195K |