Updated: 10-Mar-23 09:29 ET


Updated: 10-Mar-23 09:29 ET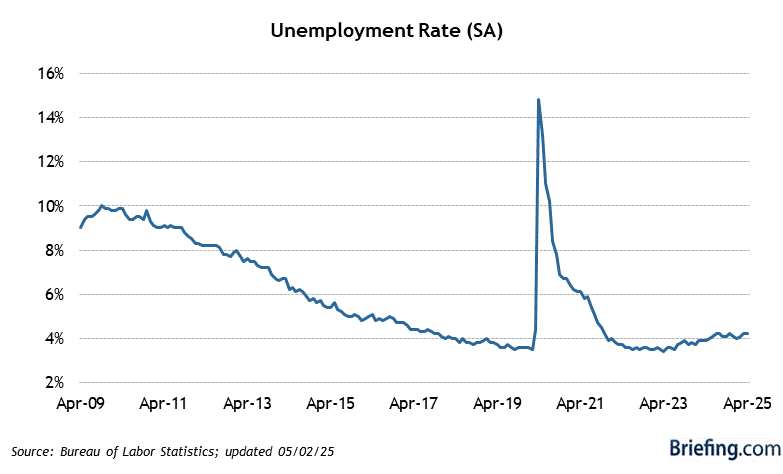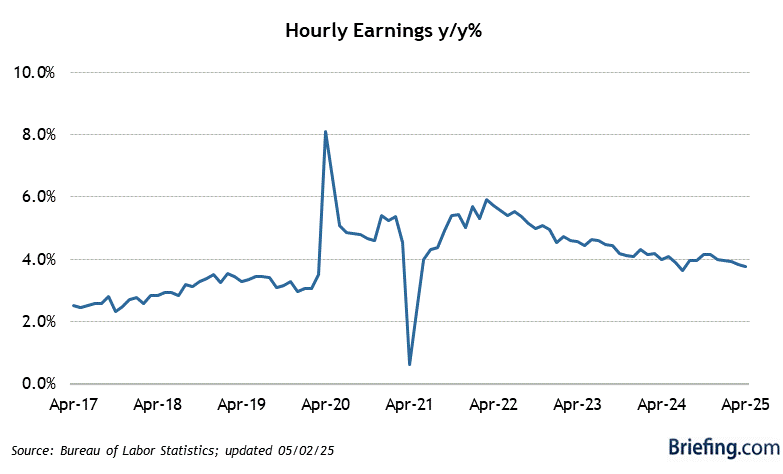 Highlights
The February employment report was accented by stronger-than-expected growth in nonfarm payrolls, a larger-than-expected increase in the unemployment rate, and a smaller-than-expected monthly increase in average hourly earnings, although the year-over-year rate increased to 4.6% from 4.4%.
Key Factors
February nonfarm payrolls increased by 311,000 (Briefing.com consensus 205,000). The 3-month average for total nonfarm payrolls increased to 351,000 from 344,000. January nonfarm payrolls revised to 504,000 from 517,000. December nonfarm payrolls revised to 239,000 from 260,000.
February private sector payrolls increased by 265,000 (Briefing.com consensus 203,000). January private sector payrolls revised to 386,000 from 443,000. December private sector payrolls revised to 232,000 from 269,000.
February unemployment rate was 3.6% (Briefing.com consensus 3.4%), versus 3.4% in January. Persons unemployed for 27 weeks or more accounted for 17.6% of the unemployed versus 19.4% in January. The U6 unemployment rate, which accounts for unemployed and underemployed workers, was 6.8% versus 6.6% in January.
February average hourly earnings were up 0.2% (Briefing.com consensus 0.3%) versus 0.3% in January. Over the last 12 months, average hourly earnings have risen 4.6%, versus 4.4% for the 12 months ending in January.
The average workweek in February was 34.5 hours (Briefing.com consensus 34.6), versus a downwardly revised 34.6 hours (from 34.7) in January. Manufacturing workweek decreased 0.2 hour to 40.3 hours. Factory overtime decreased 0.1 hour to 3.0 hours.
The labor force participation rate increased to 62.5% from 62.4% in January.
The employment-population ratio held steady at 60.2%.
Big Picture
The key takeaway from the report is that it was still a strong report for this point in the Fed's tightening cycle, and while the SIVB issue is causing a notable distraction, the strength of the report in our estimation is still enough to keep a 50 basis points rate hike on the table for the March FOMC meeting.
| | | | | | |
| --- | --- | --- | --- | --- | --- |
| Category | FEB | JAN | DEC | NOV | OCT |
| Establishment Survey | | | | | |
| Nonfarm Payrolls | 311K | 504K | 239K | 290K | 324K |
| Goods-Producing | 20K | 51K | 36K | 41K | 57K |
| Construction | 24K | 35K | 26K | 19K | 17K |
| Manufacturing | -4K | 13K | 6K | 14K | 37K |
| Service-Providing | 245K | 335K | 196K | 187K | 242K |
| Retail Trade | 50K | 34K | 27K | -46K | -6K |
| Financial | -1K | 5K | 4K | 11K | 18K |
| Business | 45K | 53K | 23K | 0K | 36K |
| Temporary help | 7K | 15K | -55K | -49K | 10K |
| Education/Health | 74K | 107K | 71K | 95K | 85K |
| Leisure/Hospitality | 105K | 114K | 58K | 123K | 61K |
| Government | 46K | 118K | 7K | 62K | 25K |
| Average Workweek | 34.5 | 34.6 | 34.4 | 34.5 | 34.6 |
| Production Workweek | 33.9 | 34.1 | 33.8 | 33.9 | 34.0 |
| Factory Overtime | 3.7 | 3.8 | 3.6 | 3.7 | 3.9 |
| Aggregate Hours Index | -0.1% | 0.9% | -0.1% | -0.1% | 0.2% |
| Avg Hourly Earnings | 0.2% | 0.3% | 0.4% | 0.4% | 0.4% |
| Household Survey | | | | | |
| Household Survey | | | | | |
| Civilian Unemp. Rate | 3.6% | 3.4% | 3.5% | 3.6% | 3.7% |
| Civilian Labor Force | 419K | 866K | 439K | -119K | 27K |
| Civilian Employed | 177K | 894K | 717K | -66K | -257K |
| Civilian Unemployed | 242K | -28K | -278K | -53K | 283K |