Updated: 08-Dec-17 09:18 ET


Updated: 08-Dec-17 09:18 ET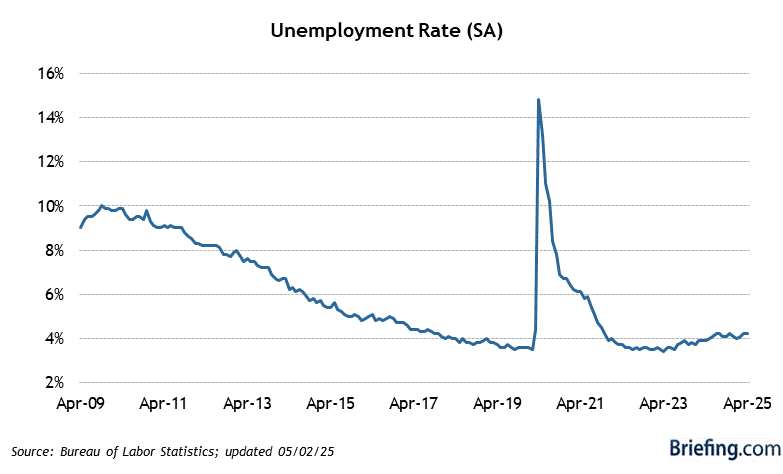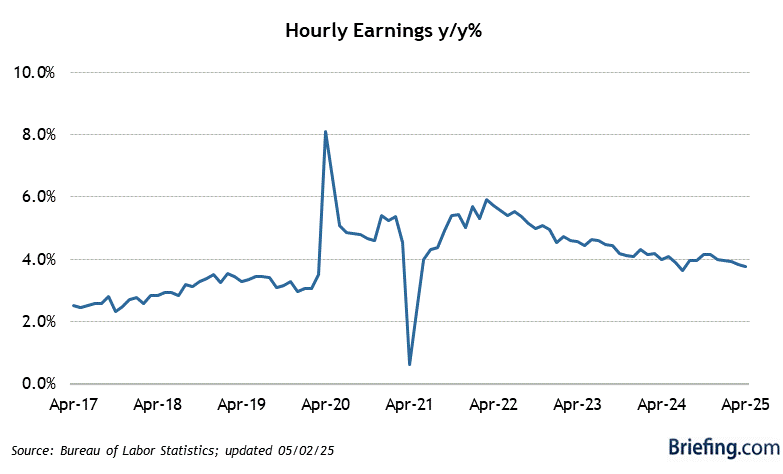 Highlights
The November Employment Situation report was basically more of the same with respect to labor market activity. Job growth was strong but wage growth wasn't.
Key Factors
November nonfarm payrolls increased by 228,000 (Briefing.com consensus 190,000). Over the past three months, job gains have averaged 170,000 per month. October nonfarm payrolls revised to 244,000 from 261,000. September nonfarm payrolls revised to 38,000 from 18,000.
November private sector payrolls increased by 221,000 (Briefing.com consensus 170,000). October private sector payrolls revised to 247,000 from 252,000. September private sector payrolls revised to 50,000 from 15,000.
November unemployment rate was 4.1% (Briefing.com consensus 4.1%) versus 4.1% in October
Persons unemployed for 27 weeks or more accounted for 23.8% of the unemployed versus 24.8% in October. The U6 unemployment rate, which accounts for both unemployed and underemployed workers, was 8.0% versus 7.9% in October.
November average hourly earnings were up 0.2% (Briefing.com consensus 0.3%) after declining a revised 0.1% (from 0.0%) in October. Over the last 12 months, average hourly earnings have risen 2.5%, versus 2.3% for the 12 months ending in October.
The average workweek in November was 34.5 hours (Briefing.com consensus 34.4), versus 34.4 hours in October. November manufacturing workweek was unchanged at 40.9 hours. Factory overtime was unchanged at 3.5 hours.
The labor force participation rate was 62.7% in November, unchanged from October
Big Picture
The key takeaway from the report is that wage growth remains subdued. That isn't likely to keep the Fed from raising rates at this month's meeting, yet it could give the Fed a data-based reason to move more slowly on the next rate hike in 2018.
| | | | | | |
| --- | --- | --- | --- | --- | --- |
| Category | NOV | OCT | SEP | AUG | JUL |
| Establishment Survey | | | | | |
| Nonfarm Payrolls | 228K | 244K | 38K | 208K | 138K |
| Goods-Producing | 62K | 34K | 26K | 73K | -20K |
| Construction | 24K | 10K | 13K | 24K | -9K |
| Manufacturing | 31K | 23K | 9K | 44K | -11K |
| Service-Providing | 159K | 213K | 24K | 111K | 153K |
| Retail Trade | 19K | -2K | 12K | -2K | -11K |
| Financial | 8K | 7K | 12K | 10K | 11K |
| Business | 46K | 54K | 30K | 47K | 43K |
| Temporary help | 18K | 18K | 10K | 9K | 13K |
| Education/Health | 54K | 24K | 23K | 46K | 51K |
| Leisure/Hospitality | 14K | 104K | -75K | -9K | 50K |
| Government | 7K | -3K | -12K | 24K | 5K |
| Average Workweek | 34.5 | 34.4 | 34.4 | 34.4 | 34.4 |
| Production Workweek | 33.7 | 33.7 | 33.6 | 33.6 | 33.7 |
| Factory Overtime | 4.4 | 4.5 | 4.4 | 4.4 | 4.4 |
| Aggregate Hours Index | 0.5% | 0.3% | 0.0% | 0.2% | -0.2% |
| Avg Hourly Earnings | 0.2% | -0.1% | 0.4% | 0.1% | 0.5% |
| Household Survey | | | | | |
| Household Survey | | | | | |
| Civilian Unemp. Rate | 4.1% | 4.1% | 4.2% | 4.4% | 4.3% |
| Civilian Labor Force | 148K | -765K | 575K | 77K | 349K |
| Civilian Employed | 57K | -484K | 906K | -74K | 345K |
| Civilian Unemployed | 90K | -281K | -331K | 151K | 4K |