Updated: 06-Apr-18 09:27 ET


Updated: 06-Apr-18 09:27 ET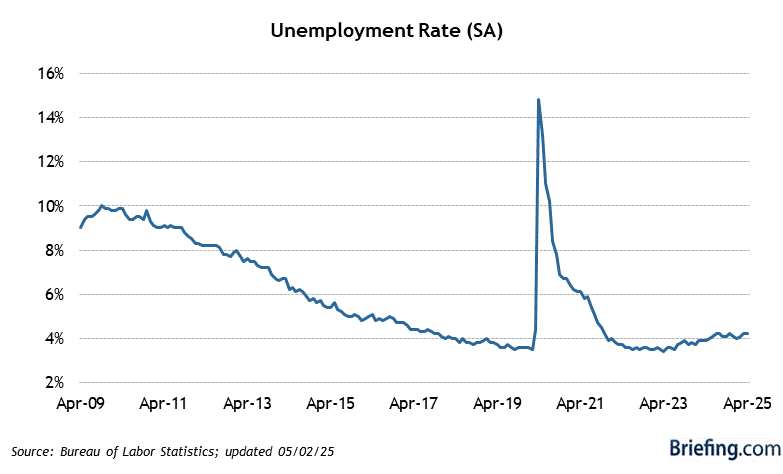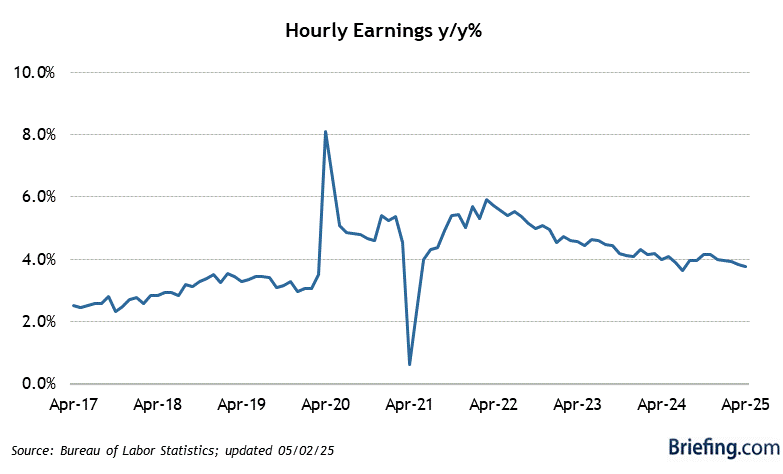 Highlights
The March employment report was a mixed bag. It showed a surprisingly weak 103,000 gain in nonfarm payrolls and a sturdy 0.3% increase in average hourly earnings. The latter left average hourly earnings up 2.7% year-over-year, which is a tick higher from February but still not as high as the 2.8% year-over-year growth rate seen in January.
Key Factors
March nonfarm payrolls increased by 103,000 (Briefing.com consensus 175,000). Over the past three months, job gains have averaged 202,000 per month.February nonfarm payrolls revised to 326,000 from 313,000. January nonfarm payrolls revised to 320,000 from 239,00.
March private sector payrolls increased by 102,000 (Briefing.com consensus 180,000. February private sector payrolls revised to 320,000 from 287,000. January private sector payrolls revised to 188,000 from 238,000.
March unemployment rate was 4.1% (Briefing.com consensus 4.0%) versus 4.1% in February. Persons unemployed for 27 weeks or more accounted for 20.3% of the unemployed versus 20.7% in February. The U6 unemployment rate, which accounts for unemployed and underemployed workers, was 8.0, versus 8.2% in February.
March average hourly earnings were up 0.3% (Briefing.com consensus 0.2%), after increasing 0.1% in February. Over the last 12 months, average hourly earnings have risen 2.7%, versus 2.6% for the 12 months ending in February.
The average workweek in March was 34.5 hours (Briefing.com consensus 34.5) versus 34.5 hours in February. March manufacturing workweek was down 0.1 hours to 40.9 versus 41.0 hours in February. Factory overtime decreased 0.1 hours to 3.6 hours.
The labor force participation rate was 62.9% in March, versus 63.0% in February
Big Picture
The key takeaway from the report is that it was neither too hot nor too cold to provide a clear basis for the Federal Reserve to re-think its outlook for monetary policy. At the same time, it will temper the market's concerns about the prospect of a fourth rate hike this year in December.
| | | | | | |
| --- | --- | --- | --- | --- | --- |
| Category | MAR | FEB | JAN | DEC | NOV |
| Establishment Survey | | | | | |
| Nonfarm Payrolls | 103K | 326K | 176K | 175K | 216K |
| Goods-Producing | 15K | 106K | 55K | 82K | 78K |
| Construction | -15K | 65K | 28K | 42K | 42K |
| Manufacturing | 22K | 32K | 20K | 39K | 30K |
| Service-Providing | 87K | 214K | 133K | 92K | 139K |
| Retail Trade | -4K | 47K | 12K | -26K | 27K |
| Financial | 2K | 30K | 3K | 8K | 9K |
| Business | 33K | 55K | 38K | 31K | 16K |
| Temporary help | -1K | 21K | -2K | -1K | 7K |
| Education/Health | 25K | 28K | 50K | 30K | 38K |
| Leisure/Hospitality | 5K | 23K | 21K | 31K | 20K |
| Government | 1K | 6K | -12K | 1K | -1K |
| Average Workweek | 34.5 | 34.5 | 34.4 | 34.5 | 34.5 |
| Production Workweek | 33.7 | 33.8 | 33.6 | 33.8 | 33.7 |
| Factory Overtime | 4.6 | 4.8 | 4.6 | 4.5 | 4.5 |
| Aggregate Hours Index | 0.1% | 0.6% | -0.2% | 0.2% | 0.5% |
| Avg Hourly Earnings | 0.3% | 0.1% | 0.3% | 0.4% | 0.3% |
| Household Survey | | | | | |
| Household Survey | | | | | |
| Civilian Unemp. Rate | 4.1% | 4.1% | 4.1% | 4.1% | 4.1% |
| Civilian Labor Force | -158K | 806K | 518K | 64K | 162K |
| Civilian Employed | -37K | 785K | 409K | 104K | 71K |
| Civilian Unemployed | -121K | 22K | 108K | -40K | 92K |