Updated: 03-Jun-22 09:25 ET


Updated: 03-Jun-22 09:25 ET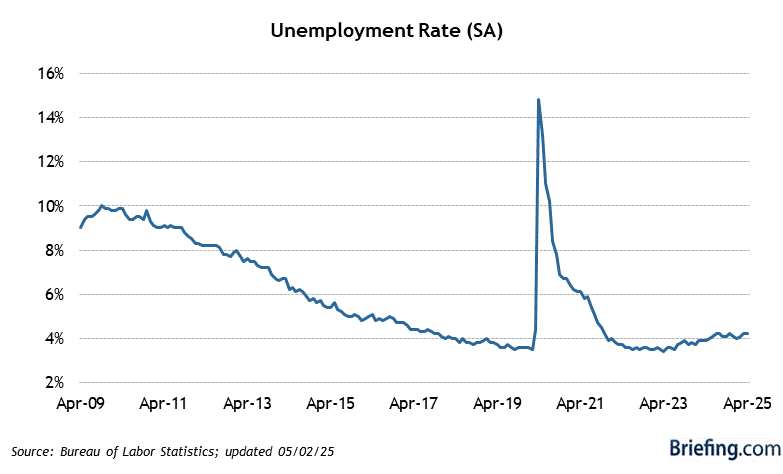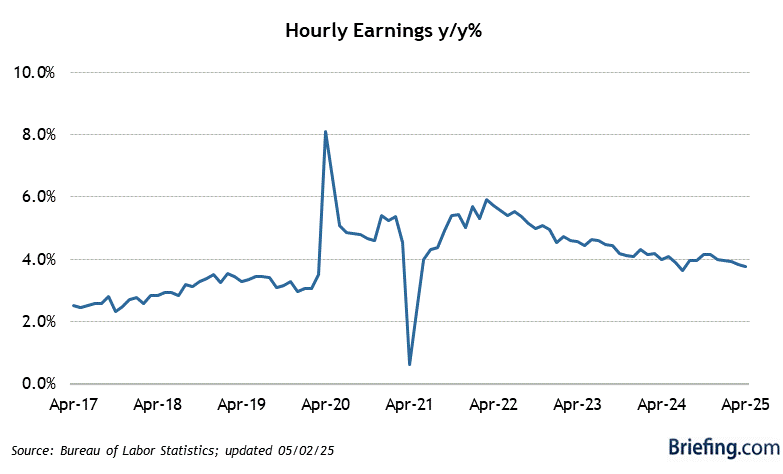 Highlights
The May employment report had plenty of good in it. Nonfarm payrolls were higher than expected, the unemployment rate held steady at 3.6%, the participation rate edged up slightly, and average hourly earnings growth decelerated on a year-over-year basis to 5.2% from 5.5%.
The bad (or potentially bad) was in some of the other detail that played into the market's concerns about a potentially more challenging period -- or "super bad" or "economic hurricane" -- ahead. Specifically, employment in retail trade declined by 61,000 in May and the number of persons employed part time for economic reasons increased by 295,000 to 4.3 million. The latter are employees whose hours were cut due to slack work or business conditions.
Employment in retail trade is still 159,000 above its February 2020 level, yet this is a forward-looking market that doesn't seem to be looking too forward to the economic road ahead, so the current decline takes precedence over the year-over-year comparison.
Key Factors
May nonfarm payrolls increased by 390,000 (Briefing.com consensus 325,000). The 3-month average for total nonfarm payrolls decreased to 408,000 from 516,000. April nonfarm payrolls revised to 436,000 from 428,000. March nonfarm payrolls revised to 398,000 from 424,000.
May private sector payrolls increased by 333,000 (Briefing.com consensus 301,000). April private sector payrolls revised to 405,000 from 406,000. March private sector payrolls revised to 385,000 from 424,000.
May unemployment rate was 3.6% (Briefing.com consensus 3.5%), versus 3.6% in April. Persons unemployed for 27 weeks or more accounted for 23.2% of the unemployed versus 25.2% in April. The U6 unemployment rate, which accounts for unemployed and underemployed workers, was 7.1%, versus 7.0% in April.
May average hourly earnings were up 0.3% (Briefing.com consensus 0.4%) versus an unrevised 0.3% increase in April. Over the last 12 months, average hourly earnings have risen 5.2%, versus 5.5% for the 12 months ending in April.
The average workweek in May was 34.6 hours (Briefing.com consensus 34.6), versus 34.6 hours in April. Manufacturing workweek was unchanged at 40.4 hours. Factory overtime dipped 0.1 hours to 3.2 hours.
The labor force participation rate increased to 62.3% from 62.2% in April.
The employment-population ratio increased to 60.1% from 60.0% in April.
Big Picture
The key takeaway is that this employment report was still too good overall to convince the market that the Federal Reserve is going to pause its rate hikes after it increases the target range for the fed funds rate by 50 basis points at the June and July FOMC meetings.
| | | | | | |
| --- | --- | --- | --- | --- | --- |
| Category | MAY | APR | MAR | FEB | JAN |
| Establishment Survey | | | | | |
| Nonfarm Payrolls | 390K | 436K | 398K | 714K | 504K |
| Goods-Producing | 59K | 69K | 85K | 114K | 32K |
| Construction | 36K | 0K | 22K | 54K | 6K |
| Manufacturing | 18K | 61K | 58K | 50K | 26K |
| Service-Providing | 274K | 336K | 300K | 590K | 460K |
| Retail Trade | -61K | 12K | -23K | 111K | 121K |
| Financial | 8K | 35K | 11K | 29K | 2K |
| Business | 75K | 49K | 94K | 87K | 88K |
| Temporary help | 19K | 7K | 8K | 28K | 28K |
| Education/Health | 74K | 60K | 51K | 101K | 33K |
| Leisure/Hospitality | 84K | 83K | 104K | 124K | 138K |
| Government | 57K | 31K | 13K | 10K | 12K |
| Average Workweek | 34.6 | 34.6 | 34.6 | 34.7 | 34.6 |
| Production Workweek | 34.1 | 34.1 | 34.1 | 34.2 | 34.0 |
| Factory Overtime | 4.1 | 4.1 | 4.2 | 4.4 | 4.2 |
| Aggregate Hours Index | 0.3% | 0.3% | 0.0% | 0.9% | -0.2% |
| Avg Hourly Earnings | 0.3% | 0.3% | 0.5% | 0.1% | 0.6% |
| Household Survey | | | | | |
| Household Survey | | | | | |
| Civilian Unemp. Rate | 3.6% | 3.6% | 3.6% | 3.8% | 4.0% |
| Civilian Labor Force | 330K | -363K | 418K | 304K | 1393K |
| Civilian Employed | 321K | -353K | 736K | 548K | 1199K |
| Civilian Unemployed | 9K | -11K | -318K | -243K | 194K |