Updated: 07-May-21 09:23 ET


Updated: 07-May-21 09:23 ET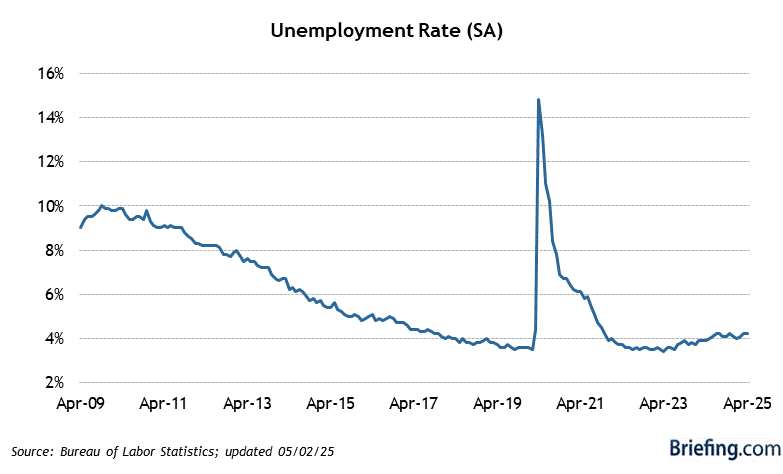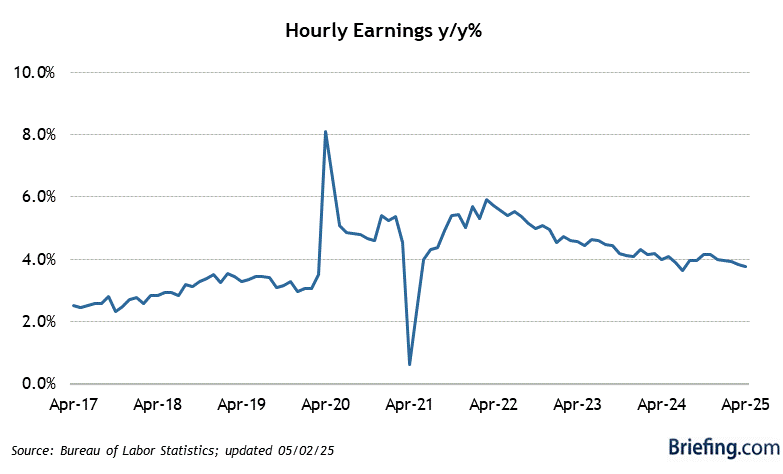 Highlights
The April employment report was surprisingly weak, with just 266,000 jobs added to nonfarm payrolls (Briefing.com consensus 1,000,000) and downward revisions to March.
Key Factors
April nonfarm payrolls increased by 266,000 (Briefing.com consensus 1,000,000). The 3-month average for total nonfarm payrolls increased to 524,000 from 513,000 in March. March nonfarm payrolls revised to 770,000 from 916,000. February nonfarm payrolls revised to 536,000 from 468,000.
April private sector payrolls increased by 218,000 (Briefing.com consensus 820,000). March private sector payrolls revised to 708,000 from 780,000. February private sector payrolls revised to 622,000 from 558,000.
April unemployment rate was 6.1% (Briefing.com consensus 5.8%), versus 6.0% in March. Persons unemployed for 27 weeks or more accounted for 43.0% of the unemployed versus 43.4% in March. The U6 unemployment rate, which accounts for unemployed and underemployed workers, was 10.4%, versus 10.7% in March.
April average hourly earnings increased 0.7% (Briefing.com consensus -0.1%) versus a 0.1% decrease in March. Over the last 12 months, average hourly earnings have risen just 0.3%, versus 4.2% for the 12 months ending in March.
The average workweek in April was 35.0 hours (Briefing.com consensus 34.9), versus 34.9 hours in March. Manufacturing workweek was unchanged at 40.5 hours. Factory overtime was unchanged at 3.2 hours.
The labor force participation rate was 61.7%, versus 61.5% in March.
The employment-population ratio increased to 57.9% from 57.8% in March.
Big Picture
The key takeaway from the report is that net job gains were negative, excluding the leisure and hospitality industry, which added 331,000 jobs. It is a stunning slowdown from March and has ignited the argument that extended unemployment benefits have created a disincentive to look for work. In turn, it has also ignited the idea that the market has gotten ahead of itself with its recovery/reopening enthusiasm.
| | | | | | |
| --- | --- | --- | --- | --- | --- |
| Category | APR | MAR | FEB | JAN | DEC |
| Establishment Survey | | | | | |
| Nonfarm Payrolls | 266K | 770K | 536K | 233K | -306K |
| Goods-Producing | -16K | 166K | -20K | -7K | 82K |
| Construction | 0K | 97K | -57K | 12K | 47K |
| Manufacturing | -18K | 54K | 35K | -18K | 35K |
| Service-Providing | 234K | 542K | 642K | 129K | -356K |
| Retail Trade | -15K | 33K | 14K | 19K | 30K |
| Financial | 19K | 19K | -7K | 7K | 18K |
| Business | -79K | 67K | 93K | 90K | 159K |
| Temporary help | -111K | -8K | 48K | 100K | 62K |
| Education/Health | -1K | 104K | 57K | -14K | -29K |
| Leisure/Hospitality | 331K | 206K | 413K | -17K | -498K |
| Government | 48K | 62K | -86K | 111K | -32K |
| Average Workweek | 35.0 | 34.9 | 34.6 | 35.0 | 34.7 |
| Production Workweek | 34.4 | 34.4 | 34.0 | 34.4 | 34.2 |
| Factory Overtime | 4.2 | 4.2 | 4.2 | 4.1 | 4.1 |
| Aggregate Hours Index | 0.5% | 1.4% | -0.7% | 1.0% | -0.6% |
| Avg Hourly Earnings | 0.7% | -0.1% | 0.3% | 0.0% | 1.0% |
| Household Survey | | | | | |
| Household Survey | | | | | |
| Civilian Unemp. Rate | 6.1% | 6.0% | 6.2% | 6.3% | 6.7% |
| Civilian Labor Force | 430K | 347K | 50K | -406K | 31K |
| Civilian Employed | 328K | 609K | 208K | 201K | 21K |
| Civilian Unemployed | 102K | -262K | -158K | -606K | 8K |