Updated: 02-Jul-21 09:37 ET


Updated: 02-Jul-21 09:37 ET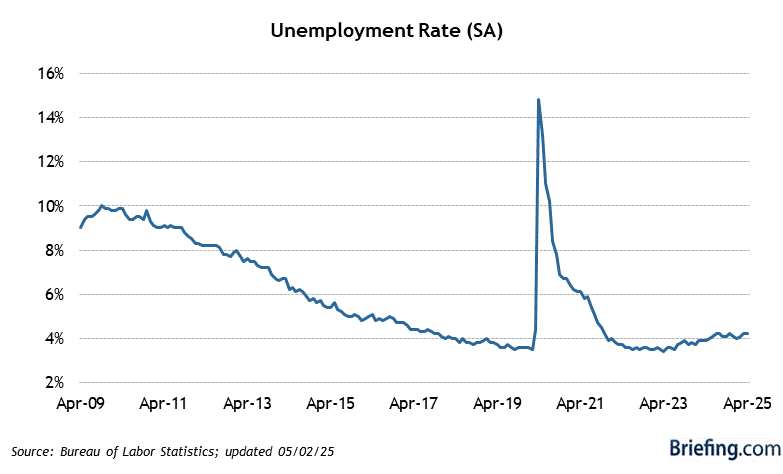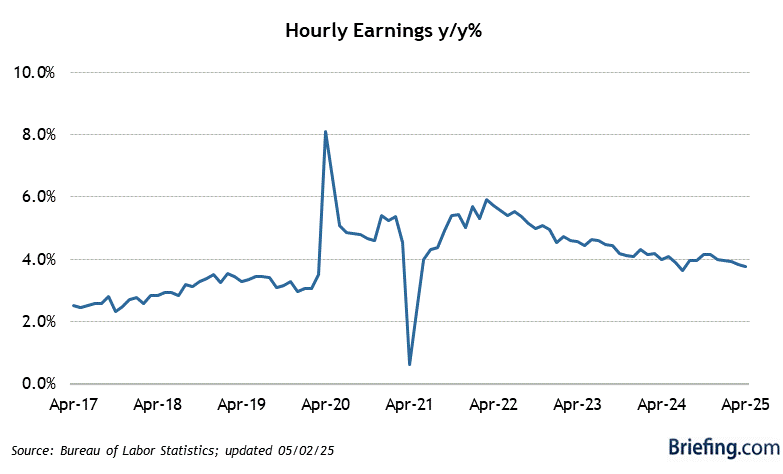 Highlights
The June Employment Situation report produced better than expected growth in nonfarm payrolls, weaker than expected growth in average hourly earnings, a higher than expected unemployment rate, and a weaker than expected length of the average workweek. Notably, it also showed no change in the labor force participation rate. In other words, the employment situation in June was okay, but not great.
Key Factors
June nonfarm payrolls increased by 850,000 (Briefing.com consensus 680,000). The 3-month average for total nonfarm payrolls increased to 567,000 from 546,000 in May. May nonfarm payrolls revised to 583,000 from 559,000. April nonfarm payrolls revised to 269,000 from 278,000.
June private sector payrolls increased by 662,000 (Briefing.com consensus 570,000). May private sector payrolls revised to 516,000 from 492,000. April private sector payrolls revised to 226,000 from 219,000.
June unemployment rate was 5.9% (Briefing.com consensus 5.7%), versus 5.8% in May. Persons unemployed for 27 weeks or more accounted for 42.1% of the unemployed versus 40.9% in May. The U6 unemployment rate, which accounts for unemployed and underemployed workers, was 9.8%, versus 10.2% in May.Ju
e average hourly earnings increased 0.3% (Briefing.com consensus 0.4%) versus a revised 0.4% increase (from 0.5%) in May. Over the last 12 months, average hourly earnings have risen 3.6%, versus 1.9% for the 12 months ending in May.
The average workweek in June was 34.7 hours (Briefing.com consensus 35.0), versus a downwardly revised 34.8 hours (from 34.9) in May. Manufacturing workweek decreased 0.2 hours to 40.2 hours. Factory overtime decreased 0.1 hour to 3.2 hours.
The labor force participation rate was 61.6%, versus 61.6% in May.
The employment-population ratio held steady at 58.0%.
Big Picture
The key takeaway for the market is that it is apt to convince the Fed that it needs to take additional time to watch the incoming data before it moves to lessen its dovish-minded accommodation. The tell in that respect is that the June employment situation still fell short of the Fed's stated goal to get employment back to maximum employment in a broad-based and inclusive fashion, as it showed much higher rates of unemployment for minority groups and little movement in participation rates.
| | | | | | |
| --- | --- | --- | --- | --- | --- |
| Category | JUN | MAY | APR | MAR | FEB |
| Establishment Survey | | | | | |
| Nonfarm Payrolls | 850K | 583K | 269K | 785K | 536K |
| Goods-Producing | 20K | 19K | -41K | 159K | -20K |
| Construction | -7K | -22K | -9K | 93K | -57K |
| Manufacturing | 15K | 39K | -35K | 51K | 35K |
| Service-Providing | 641K | 497K | 267K | 565K | 642K |
| Retail Trade | 67K | 27K | -22K | 42K | 14K |
| Financial | -1K | -3K | 17K | 13K | -7K |
| Business | 72K | 36K | -79K | 74K | 93K |
| Temporary help | 33K | -7K | -122K | -6K | 48K |
| Education/Health | 59K | 59K | 23K | 104K | 57K |
| Leisure/Hospitality | 343K | 306K | 328K | 227K | 413K |
| Government | 188K | 67K | 43K | 61K | -86K |
| Average Workweek | 34.7 | 34.8 | 34.9 | 34.9 | 34.6 |
| Production Workweek | 34.1 | 34.3 | 34.3 | 34.4 | 34.0 |
| Factory Overtime | 4.0 | 4.2 | 4.1 | 4.1 | 4.2 |
| Aggregate Hours Index | 0.2% | 0.2% | 0.2% | 1.4% | -0.7% |
| Avg Hourly Earnings | 0.3% | 0.4% | 0.7% | -0.1% | 0.3% |
| Household Survey | | | | | |
| Household Survey | | | | | |
| Civilian Unemp. Rate | 5.9% | 5.8% | 6.1% | 6.0% | 6.2% |
| Civilian Labor Force | 151K | -53K | 430K | 347K | 50K |
| Civilian Employed | -18K | 444K | 328K | 609K | 208K |
| Civilian Unemployed | 168K | -496K | 102K | -262K | -158K |