Updated: 07-Aug-20 09:30 ET


Updated: 07-Aug-20 09:30 ET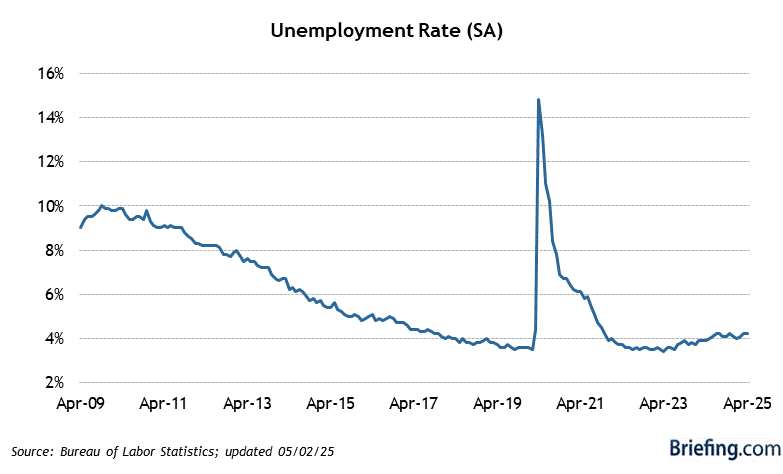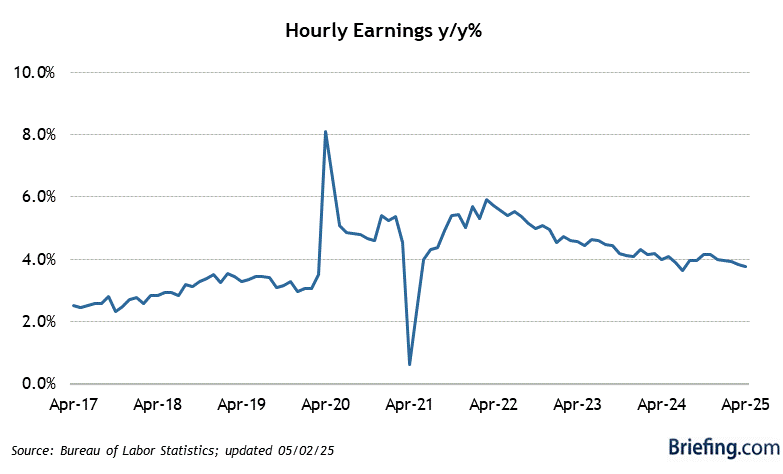 Highlights
The Employment Situation Report for July can fairly be labeled better than feared given the surprisingly weak ADP Employment Change Report seen earlier in the week. That report estimated that 167,000 jobs were added to private-sector payrolls. The government's official report indicated that private-sector payrolls increased by 1.462 million in July.
The nonfarm payrolls number was even larger. Some might call it a "big number" at 1.763 million.
Key Factors
July nonfarm payrolls increased by 1.763 million (Briefing.com consensus 2.0 million). June nonfarm payrolls revised to 4.791 million from 4.800 million. May nonfarm payrolls revised to 2.725 million from 2.699 million.
July private sector payrolls increased by 1.462 million (Briefing.com consensus 1.90 million). June private sector payrolls revised to 4.737 million from 4.767 million. May private sector payrolls revised to 3.236 million from 3.232 million.
July unemployment rate was 10.2% (Briefing.com consensus 10.5%), versus 11.1% in June. Persons unemployed for 27 weeks or more accounted for 9.2% of the unemployed versus 7.9% in June The U6 unemployment rate, which accounts for unemployed and underemployed workers, was 16.5%, versus 18.0% in June.
July average hourly earnings increased 0.2% (Briefing.com consensus -0.7%) versus a downwardly revised 1.3% decline (from -1.2%) in June. Over the last 12 months, average hourly earnings have risen 4.8%, versus 4.9% for the 12 months ending in June.
The average workweek in July was 34.5 hours (Briefing.com consensus 34.4), versus an upwardly revised 34.6 hours (from 34.5) in June. Manufacturing workweek increased 0.7 hours to 39.7 hours. Factory overtime increased 0.3 hours to 2.8 hours.
The labor force participation rate decreased to 61.4% from 61.5% in June.
The employment-population ratio increased to 55.1% from 54.6% in June.
Big Picture
The key takeaway from the report is that the labor market is recovering from the shock of the COVID-induced seizure, but still has a long way to go, evidenced by the 10.2% unemployment rate and a 55.1% employment-population ratio that is far below the 60.7% level seen a year ago.
| | | | | | |
| --- | --- | --- | --- | --- | --- |
| Category | JUL | JUN | MAY | APR | MAR |
| Establishment Survey | | | | | |
| Nonfarm Payrolls | 1763K | 4791K | 2725K | -20787K | -1373K |
| Goods-Producing | 39K | 515K | 676K | -2388K | -119K |
| Construction | 20K | 163K | 456K | -1018K | -65K |
| Manufacturing | 26K | 357K | 240K | -1317K | -46K |
| Service-Providing | 1423K | 4222K | 2560K | -17447K | -1237K |
| Retail Trade | 258K | 827K | 386K | -2299K | -85K |
| Financial | 21K | 23K | 19K | -261K | -18K |
| Business | 170K | 318K | 160K | -2202K | -94K |
| Temporary help | 144K | 144K | 47K | -840K | -51K |
| Education/Health | 215K | 567K | 388K | -2603K | -178K |
| Leisure/Hospitality | 592K | 1981K | 1405K | -7575K | -743K |
| Government | 301K | 54K | -511K | -952K | -17K |
| Average Workweek | 34.5 | 34.6 | 34.7 | 34.2 | 34.1 |
| Production Workweek | 34.0 | 34.0 | 34.1 | 33.5 | 33.4 |
| Factory Overtime | 3.6 | 3.2 | 3.1 | 2.8 | 3.9 |
| Aggregate Hours Index | 1.0% | 3.9% | 4.5% | -15.2% | -1.9% |
| Avg Hourly Earnings | 0.2% | -1.3% | -1.1% | 4.7% | 0.6% |
| Household Survey | | | | | |
| Household Survey | | | | | |
| Civilian Unemp. Rate | 10.2% | 11.1% | 13.3% | 14.7% | 4.4% |
| Civilian Labor Force | -62K | 1705K | 1746K | -6432K | -1633K |
| Civilian Employed | 1350K | 4940K | 3839K | -22369K | -2987K |
| Civilian Unemployed | -1412K | -3235K | -2093K | 15938K | 1353K |