Updated: 02-Feb-18 09:41 ET


Updated: 02-Feb-18 09:41 ET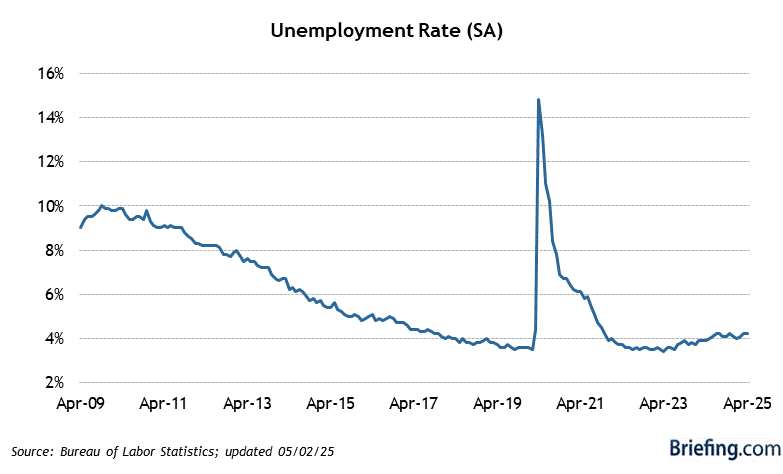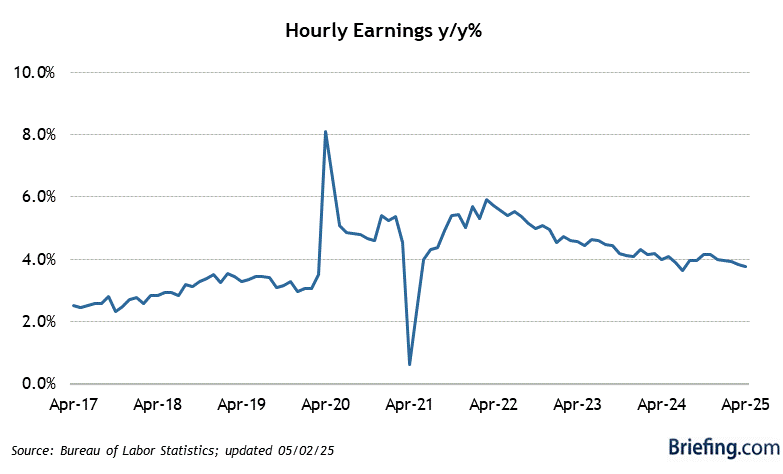 Highlights
Job growth was solid again in January, but the focal point was the 0.3% jump in average hourly earnings. That was in-line with the Briefing.com consensus estimate, but after taking revisions into account, it left average hourly earnings up 2.9% year-over-year -- the highest growth rate since May 2009.
Key Factors
January nonfarm payrolls increased by 200,000 (Briefing.com consensus 180,000). Over the past three months, job gains have averaged 192,000 per month. December nonfarm payrolls revised to 160,000 from 148,000. November nonfarm payrolls revised to 216,000 from 252,000.
January private sector payrolls increased by 196,000 (Briefing.com consensus 175,000). December private sector payrolls revised to 166,000 from 146,000 . November private sector payrolls revised to 217,000 from 239,000.
January unemployment rate was 4.1% (Briefing.com consensus 4.1%) versus 4.1% in December. Persons unemployed for 27 weeks or more accounted for 21.5% of the unemployed versus 22.9% in December.
January average hourly earnings were up 0.3% (Briefing.com consensus 0.3%) after increasing an upwardly revised 0.4% (from 0.3%) in December. Over the last 12 months, average hourly earnings have risen 2.9%, versus 2.7% for the 12 months ending in December.
The average workweek in January was 34.3 hours (Briefing.com consensus 34.5) versus 34.5 hours in December. January manufacturing workweek ticked down to 40.6 hours from 40.8 hours in December. Factory overtime was unchanged at 3.5 hours.
The labor force participation rate was 62.7% in January, versus 62.7% in December
Big Picture
There has been a burgeoning assumption that the strengthening economy and the tight labor market are going to invite higher wages and wage-based inflation pressures that have been dormant for years. The key takeaway, then, is that the January report has given some data-based life to that assumption and has offered a reasonable basis for the Federal Reserve to move ahead with a rate hike at its March meeting.
| | | | | | |
| --- | --- | --- | --- | --- | --- |
| Category | JAN | DEC | NOV | OCT | SEP |
| Establishment Survey | | | | | |
| Nonfarm Payrolls | 200K | 160KK | 216K | 271K | 14K |
| Goods-Producing | 57K | 55K | 78K | 38K | 15K |
| Construction | 36K | 33K | 42K | 17K | 9K |
| Manufacturing | 15K | 21K | 30K | 20K | 6K |
| Service-Providing | 139K | 111K | 139K | 239K | 1K |
| Retail Trade | 15K | -26K | 27K | 7K | 2K |
| Financial | 9K | 6K | 9K | 9K | 8K |
| Business | 23K | 25K | 16K | 60K | 27K |
| Temporary help | 2K | -2K | 7K | 20K | 11K |
| Education/Health | 38K | 39K | 38K | 15K | 14K |
| Leisure/Hospitality | 35K | 37K | 20K | 110K | -75K |
| Government | 4K | -6K | -1K | -6K | -2K |
| Average Workweek | 34.3 | 34.5 | 34.5 | 34.4 | 34.3 |
| Production Workweek | 33.6 | 33.7 | 33.7 | 33.7 | 33.6 |
| Factory Overtime | 4.5 | 4.4 | 4.5 | 4.5 | 4.4 |
| Aggregate Hours Index | -0.5% | 0.2% | 0.5% | 0.5% | -0.3% |
| Avg Hourly Earnings | 0.3% | 0.4% | 0.3% | -0.2% | 0.5% |
| Household Survey | | | | | |
| Household Survey | | | | | |
| Civilian Unemp. Rate | 4.1% | 4.1% | 4.1% | 4.1% | 4.2% |
| Civilian Labor Force | 518K | 64K | 162K | -711K | 484K |
| Civilian Employed | 409K | 104K | 71K | -478K | 853K |
| Civilian Unemployed | 108K | -40K | 92K | -235K | -368K |