Updated: 02-Dec-22 09:42 ET


Updated: 02-Dec-22 09:42 ET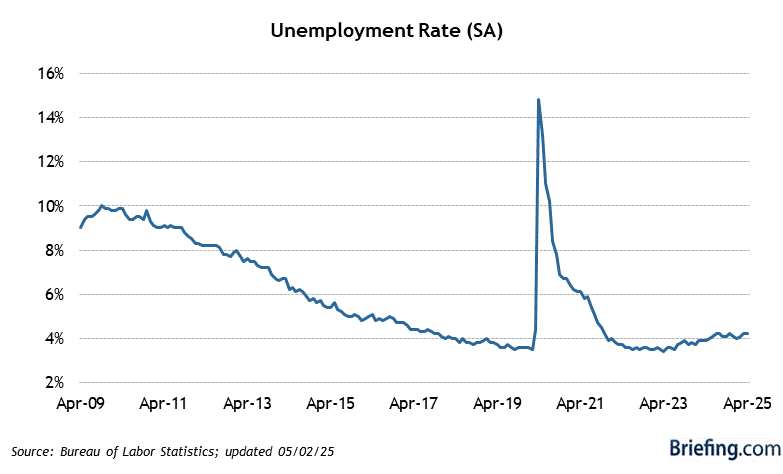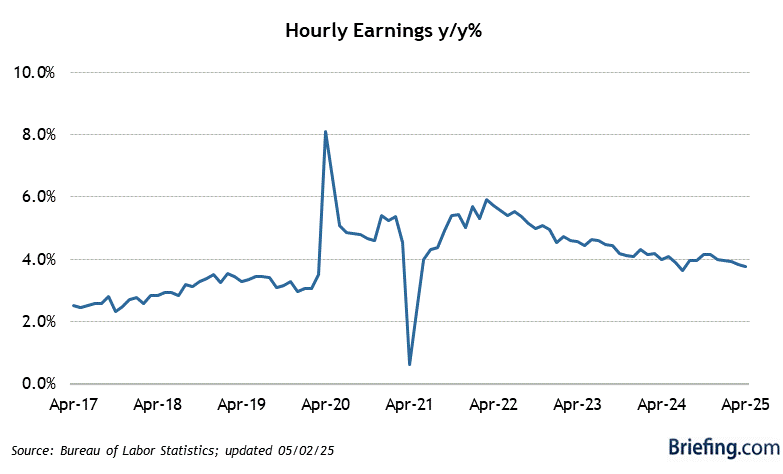 Highlights
Nonfarm payroll growth (263,000) was higher than expected in November, the unemployment rate held near a 50-year low of 3.7%, and average hourly earnings increased at a robust 0.6% month-over-month, leaving them up 5.1% year-over-year.
Key Factors
November nonfarm payrolls increased by 263,000 (Briefing.com consensus 200,000). The 3-month average for total nonfarm payrolls decreased to 272,000 from 282,000. October nonfarm payrolls revised to 284,000 from 261,000.September nonfarm payrolls revised to 269,000 from 315,000.
November private sector payrolls increased by 221,000 (Briefing.com consensus 200,000). October private sector payrolls revised to 248,000 from 233,000. September private sector payrolls revised to 255,000 from 319,000.
November unemployment rate was 3.7% (Briefing.com consensus 3.7%), versus 3.7% in October. Persons unemployed for 27 weeks or more accounted for 20.6% of the unemployed versus 19.5% in October. The U6 unemployment rate, which accounts for unemployed and underemployed workers, was 6.7% versus 6.8% in October.
November average hourly earnings were up 0.6% (Briefing.com consensus 0.3%) versus an upwardly revised 0.5% (from 0.4%) in October. Over the last 12 months, average hourly earnings have risen 5.1%, versus 4.9% for the 12 months ending in October.
The average workweek in November was 34.4 hours (Briefing.com consensus 34.5), versus 34.5 hours in October. Manufacturing workweek decreased 0.2 hour to 40.2 hours. Factory overtime declined 0.1 hour to 3.1 hours.
The labor force participation rate dipped to 62.1% from 62.2% in October.
The employment-population ratio slipped to 59.9% from 60.0% in October.
Big Picture
The key takeaway from the report is mixed. The report itself is good news from an economic standpoint, yet the market sees it as bad news, thinking it will push out any eventual pivot by the Fed with its monetary policy. In brief, it is a report that screams higher for longer with respect to the target range for the fed funds rate.
| | | | | | |
| --- | --- | --- | --- | --- | --- |
| Category | NOV | OCT | SEP | AUG | JUL |
| Establishment Survey | | | | | |
| Nonfarm Payrolls | 263K | 284K | 269K | 292K | 537K |
| Goods-Producing | 37K | 47K | 43K | 43K | 63K |
| Construction | 20K | 9K | 23K | 9K | 21K |
| Manufacturing | 14K | 36K | 17K | 36K | 37K |
| Service-Providing | 184K | 201K | 212K | 190K | 385K |
| Retail Trade | -30K | -3K | -30K | 29K | 16K |
| Financial | 14K | 13K | 3K | 9K | 7K |
| Business | 6K | 26K | 25K | 29K | 84K |
| Temporary help | -17K | -6K | -23K | -1K | 13K |
| Education/Health | 82K | 80K | 82K | 82K | 122K |
| Leisure/Hospitality | 88K | 60K | 111K | 13K | 89K |
| Government | 42K | 36K | 14K | 59K | 89K |
| Average Workweek | 34.4 | 34.5 | 34.5 | 34.5 | 34.5 |
| Production Workweek | 33.9 | 34.0 | 34.0 | 33.9 | 34.0 |
| Factory Overtime | 3.8 | 3.9 | 3.9 | 3.9 | 4.0 |
| Aggregate Hours Index | -0.2% | 0.2% | 0.3% | 0.2% | 0.3% |
| Avg Hourly Earnings | 0.6% | 0.5% | 0.4% | 0.3% | 0.5% |
| Household Survey | | | | | |
| Household Survey | | | | | |
| Civilian Unemp. Rate | 3.7% | 3.7% | 3.5% | 3.7% | 3.5% |
| Civilian Labor Force | -186K | -22K | -57K | 786K | -63K |
| Civilian Employed | -138K | -328K | 204K | 442K | 179K |
| Civilian Unemployed | -48K | 306K | -261K | 344K | -242K |