Updated: 03-Dec-21 09:30 ET


Updated: 03-Dec-21 09:30 ET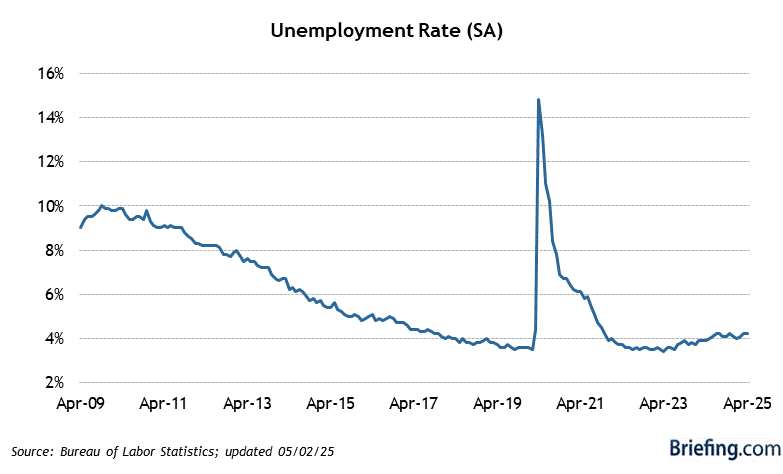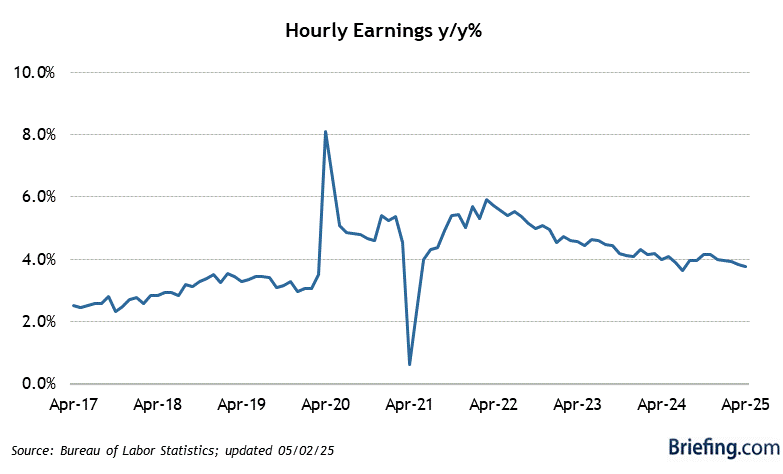 Highlights
Unfortunately, the November employment report wasn't a clear-cut report, aside from the fact that it was such a confounding report that it will make it possible to argue for why the Fed should be more aggressive with its policy pivot or why it should take a more conservative approach.
The focal point will be the disconnect between the seeming strength in the household survey, from which the unemployment rate is derived, and the reported weakness in the establishment survey, which drives the nonfarm payrolls count.
Key Factors
November nonfarm payrolls increased by 210,000 (Briefing.com consensus 525,000). The 3-month average for total nonfarm payrolls decreased to 378,000 from 469,000 in October. October nonfarm payrolls revised to 546,000 from 531,000. September nonfarm payrolls revised to 379,000 from 312,000.
November private sector payrolls increased by 235,000 (Briefing.com consensus 500,000). October private sector payrolls revised to 628,000 from 604,000. September private sector payrolls revised to 424,000 from 365,000.
November unemployment rate was 4.2% (Briefing.com consensus 4.5%), versus 4.6% in October. Persons unemployed for 27 weeks or more accounted for 32.1% of the unemployed versus 31.6% in October. The U6 unemployment rate, which accounts for unemployed and underemployed workers, was 7.8%, versus 8.3% in October.
November average hourly earnings increased 0.3% (Briefing.com consensus 0.4%) versus a 0.4% increase in October. Over the last 12 months, average hourly earnings have risen 4.8%, versus 4.8% for the 12 months ending in October.
The average workweek in November was 34.8 hours (Briefing.com consensus 34.7), versus 34.7 hours in October. Manufacturing workweek increased 0.1 hours to 40.4 hours. Factory overtime was unchanged at 3.2 hours.
The labor force participation rate increased to 61.8% from 61.6%.
The employment-population ratio increased to 59.2% from 58.8% in October.
Big Picture
The key takeaway from the report is that it will contribute to the fickle trading action we have seen of late since it didn't provide a clear line on what the Fed should do and when.
| | | | | | |
| --- | --- | --- | --- | --- | --- |
| Category | NOV | OCT | SEP | AUG | JUL |
| Establishment Survey | | | | | |
| Nonfarm Payrolls | 210K | 546K | 379K | 483K | 1091K |
| Goods-Producing | 60K | 94K | 65K | 54K | 74K |
| Construction | 31K | 43K | 35K | -1K | 12K |
| Manufacturing | 31K | 48K | 29K | 49K | 57K |
| Service-Providing | 175K | 534K | 359K | 450K | 742K |
| Retail Trade | -20K | 38K | 39K | 22K | -6K |
| Financial | 13K | 26K | 12K | 17K | 31K |
| Business | 90K | 121K | 111K | 139K | 91K |
| Temporary help | 6K | 46K | 15K | 27K | 19K |
| Education/Health | 4K | 59K | 16K | 72K | 84K |
| Leisure/Hospitality | 23K | 170K | 108K | 71K | 408K |
| Government | -25K | -82K | -45K | -21K | 275K |
| Average Workweek | 34.8 | 34.7 | 34.8 | 34.6 | 34.7 |
| Production Workweek | 34.1 | 34.1 | 34.2 | 34.1 | 34.2 |
| Factory Overtime | 4.1 | 4.0 | 4.1 | 4.1 | 4.1 |
| Aggregate Hours Index | 0.5% | 0.3% | 0.9% | 0.1% | 0.6% |
| Avg Hourly Earnings | 0.3% | 0.4% | 0.6% | 0.4% | 0.4% |
| Household Survey | | | | | |
| Household Survey | | | | | |
| Civilian Unemp. Rate | 4.2% | 4.6% | 4.8% | 5.2% | 5.4% |
| Civilian Labor Force | 594K | 104K | -183K | 190K | 261K |
| Civilian Employed | 1136K | 359K | 526K | 509K | 1043K |
| Civilian Unemployed | -542K | -255K | -710K | -318K | -782K |