Updated: 02-Jun-17 09:43 ET


Updated: 02-Jun-17 09:43 ET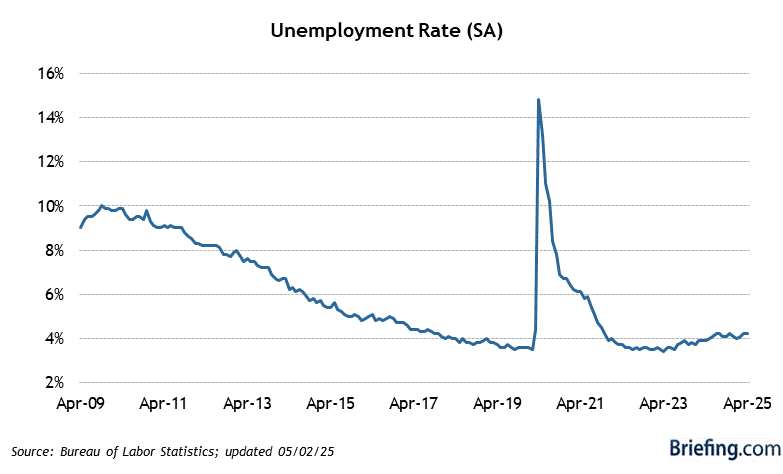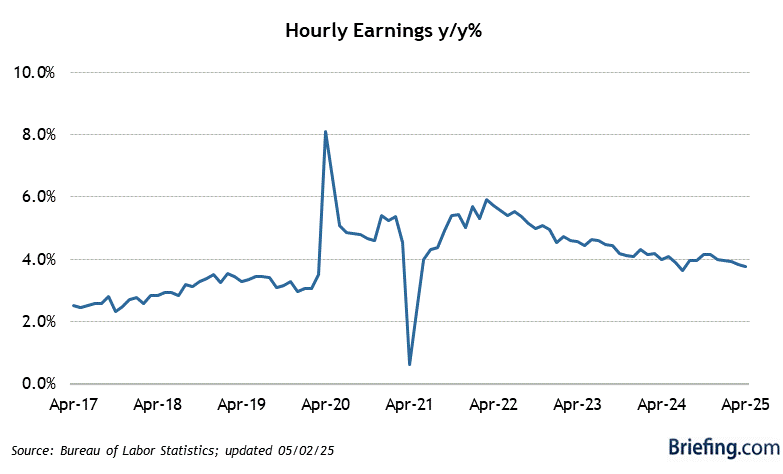 Highlights
The Employment Situation Report for May produced a headline disappointment with nonfarm payrolls being lower than expected and far lower than the job gains reported in the ADP Employment Change Report on Thursday. Nevertheless, the unemployment rate fell to a 16-year low.
Key Factors
May nonfarm payrolls increased by 138,000 (Briefing.com consensus 185,000). Over the past three months, job gains have averaged 121,000 per month. April nonfarm payrolls revised to 174,000 from 211,000.March nonfarm payrolls revised to 50,000 from 79,000.
May private sector payrolls increased by 147,000 (Briefing.com consensus 194,000). April private sector payrolls revised to 173,000 from 194,000. March private sector payrolls revised to 59,000 from 77,000.
May unemployment rate was 4.3% (Briefing.com consensus 4.4%) versus 4.4% in April
Persons unemployed for 27 weeks or more accounted for 24.0% of the unemployed versus 22.6% in April
The U6 unemployment rate, which accounts for both unemployed and underemployed workers, decreased to 8.4% from 8.6% in April
May average hourly earnings increased 0.2% (Briefing.com consensus +0.3%) after increasing a downwardly revised 0.2% (from 0.3%) in April
Over the last 12 months, average hourly earnings have risen 2.5%, unchanged from the 12-month period ending in April
The average workweek in May was 34.4 hours (Briefing.com consensus 34.4), versus 34.4 hours in April. May manufacturing workweek unchanged at 40.7 hours. Factory overtime increased 0.1 hour to 3.3 hours.
The labor force participation rate fell to 62.7% in May from 62.9% in April
Big Picture
The key takeaway from the employment report is that wage inflation continues to be dormant despite increased hiring activity. That understanding will temper concerns about the Fed having to walk an aggressive rate-hike path.
| | | | | | |
| --- | --- | --- | --- | --- | --- |
| Category | MAY | APR | MAR | FEB | JAN |
| Establishment Survey | | | | | |
| Nonfarm Payrolls | 138K | 174K | 50K | 232K | 216K |
| Goods-Producing | 16K | 19K | 17K | 88K | 51K |
| Construction | 11K | -1K | 0K | 54K | 34K |
| Manufacturing | -1K | 11K | 11K | 22K | 12K |
| Service-Providing | 131K | 154K | 42K | 134K | 153K |
| Retail Trade | -6K | -6K | -40K | -29K | 35K |
| Financial | 11K | 14K | 4K | 5K | 30K |
| Business | 38K | 38K | 58K | 35K | 59K |
| Temporary help | 13K | 4K | 13K | 10K | 15K |
| Education/Health | 47K | 50K | 16K | 68K | 17K |
| Leisure/Hospitality | 31K | 58K | 11K | 33K | 15K |
| Government | -9K | 1K | -9K | 10K | 12K |
| Average Workweek | 34.4 | 34.4 | 34.3 | 34.3 | 34.4 |
| Production Workweek | 33.6 | 33.7 | 33.6 | 33.6 | 33.6 |
| Factory Overtime | 4.2 | 4.2 | 4.2 | 4.2 | 4.2 |
| Aggregate Hours Index | 0.1% | 0.5% | 0.0% | -0.1% | 0.2% |
| Avg Hourly Earnings | 0.2% | 0.2% | 0.1% | 0.3% | 0.2% |
| Household Survey | | | | | |
| Household Survey | | | | | |
| Civilian Unemp. Rate | 4.3% | 4.4% | 4.5% | 4.7% | 4.8% |
| Civilian Labor Force | -429K | 12K | 145K | 340K | 76K |
| Civilian Employed | -233K | 156K | 472K | 447K | -30K |
| Civilian Unemployed | -195K | -146K | -326K | -107K | 106K |