Updated: 29-Nov-17 09:23 ET


Updated: 29-Nov-17 09:23 ET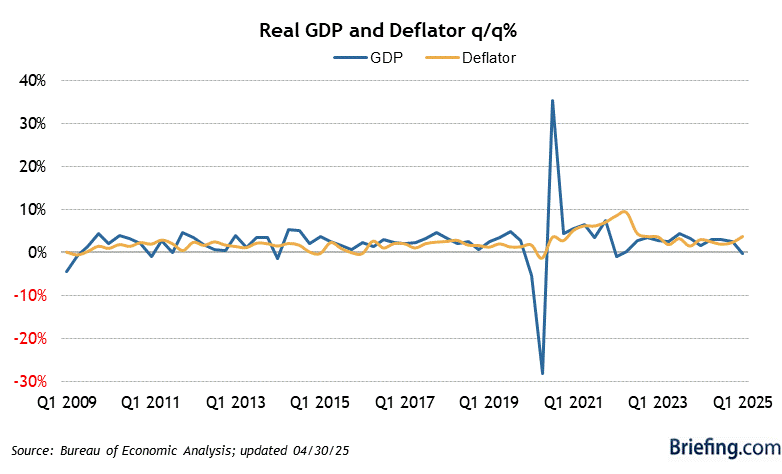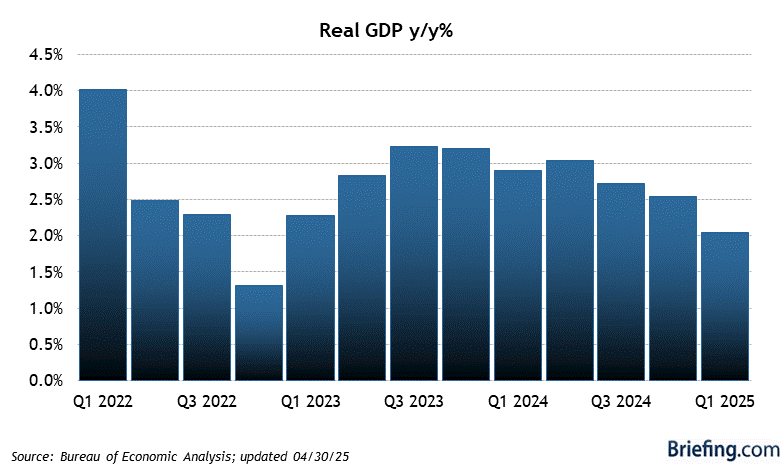 Highlights
The GDP report provided the encouraging news that third quarter real GDP growth was revised up to 3.3% (Briefing.com consensus 3.2%) from 3.0% in the advance estimate.
The GDP Price Deflator was revised down to 2.1% (Briefing.com consensus 2.2%) from 2.2%.
Key Factors
The upward revision was driven by larger increases than previously estimated for nonresidential fixed investment (from 3.9% to 4.7%), state and local government spending (from -0.9% to -0.1%), and private inventory investment (from $35.8 bln to $39.0 bln).
Personal consumption expenditures increased 2.3%, down from the advance estimate of 2.4%
Real final sales, which exclude the change in private inventories, increased 2.5% versus the advance estimate of 2.3%
Big Picture
The key takeaway from the report is that economic output grew at its strongest pace since the first quarter of 2015, driven by a pickup in both consumer and business spending -- and despite the disruptions created by the hurricanes.
| | | | | | |
| --- | --- | --- | --- | --- | --- |
| Category | Q3 | Q2 | Q1 | Q4 | Q3 |
| GDP | 3.3% | 3.1% | 1.2% | 1.8% | 2.8% |
| Inventories (change) | $39.0B | $5.5B | $1.2B | $63.1B | $17.6B |
| Final Sales | 2.5% | 2.9% | 2.7% | 0.7% | 2.6% |
| PCE | 2.3% | 3.3% | 1.9% | 2.9% | 2.8% |
| Nonresidential Inv. | 4.7% | 6.7% | 7.1% | 0.2% | 3.4% |
| Structures | -6.8% | 7.0% | 14.8% | -2.2% | 14.3% |
| Equipment | 10.4% | 8.8% | 4.4% | 1.8% | -2.1% |
| Intellectual Property | 5.8% | 3.7% | 5.8% | -0.4% | 4.2% |
| Residential Inv. | -5.1% | -7.3% | 11.1% | 7.1% | -4.5% |
| Net Exports | -$594.4B | -$613.6B | -$622.2B | -$631.1B | -$557.3B |
| Export | 2.2% | 3.5% | 7.3% | -3.8% | 6.4% |
| Imports | -1.1% | 1.5% | 4.3% | 8.1% | 2.7% |
| Government | 0.4% | -0.2% | -0.6% | 0.2% | 0.5% |
| GDP Price Index | 2.1% | 1.0% | 2.0% | 2.0% | 1.4% |