Updated: 28-Sep-17 09:33 ET


Updated: 28-Sep-17 09:33 ET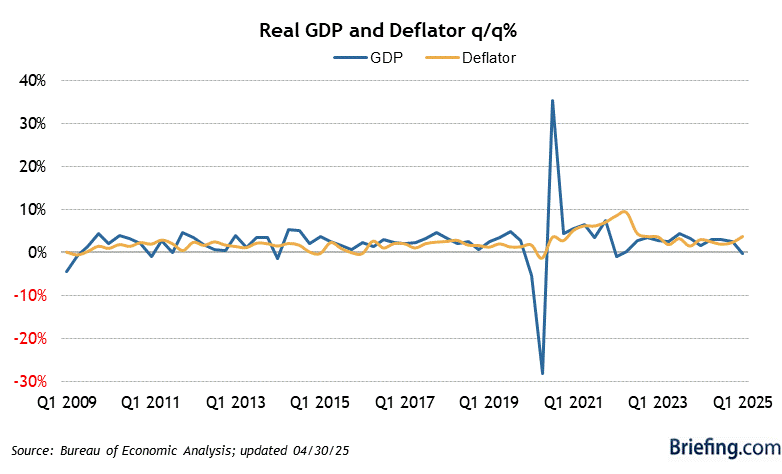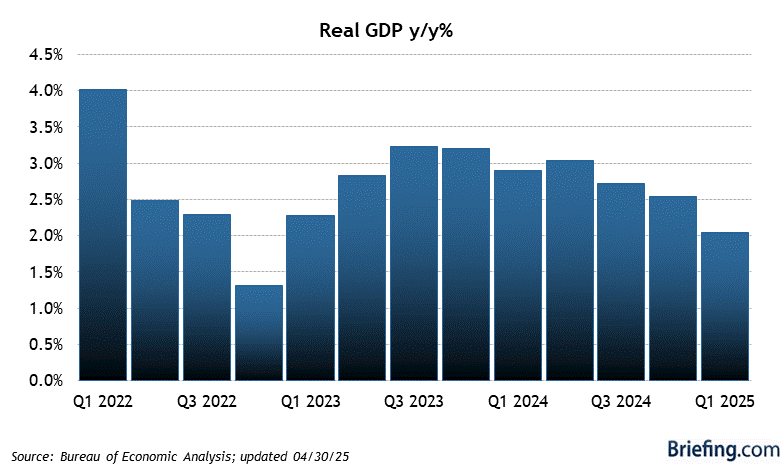 Highlights
With the third estimate, second quarter GDP was revised up to 3.1% (Briefing.com consensus 3.0%) from 3.0%. The GDP Deflator was left unchanged at 1.0%, as expected.
Key Factors
The slight upward revision was owed primarily to private inventory investment increasing more than previously estimated.
PCE growth was left unchanged at 3.3%
Gross private domestic investment growth was revised up to 3.9% from 3.6%
Net exports were largely unchanged from the second estimate
Government spending decreased 0.2%, which was slightly better than the 0.3% decrease seen with the second estimate
Big Picture
The key takeaway from the report is that it was driven by a pickup in both consumer and business spending, which is typically a good mix for accelerating economic growth.
The overall GDP growth rate was the first with a 3-handle on it since the first quarter of 2015.
| | | | | | |
| --- | --- | --- | --- | --- | --- |
| Category | Q2 | Q1 | Q4 | Q3 | Q2 |
| GDP | 3.1% | 1.2% | 1.8% | 2.8% | 2.2% |
| Inventories (change) | $5.5B | $1.2B | $63.1B | $17.6B | $12.2B |
| Final Sales | 2.9% | 2.7% | 0.7% | 2.6% | 2.9% |
| PCE | 3.3% | 1.9% | 2.9% | 2.8% | 3.0% |
| Nonresidential Inv. | 6.7% | 7.1% | 0.2% | 3.4% | 3.3% |
| Structures | 7.0% | 14.8% | -2.2% | 14.3% | 0.5% |
| Equipment | 8.8% | 4.4% | 1.8% | -2.1% | -0.6% |
| Intellectual Property | 3.7% | 5.8% | -0.4% | 4.2% | 11.1% |
| Residential Inv. | -7.3% | 11.1% | 7.1% | -4.5% | -4.8% |
| Net Exports | -$613.6B | -$622.2B | -$631.1B | -$557.3B | -$572.4B |
| Export | 3.5% | 7.3% | -3.8% | 6.4% | 2.8% |
| Imports | 1.5% | 4.3% | 8.1% | 2.7% | 0.4% |
| Government | -0.2% | -0.6% | 0.2% | 0.5% | -0.9% |
| GDP Price Index | 1.0% | 2.0% | 2.0% | 1.4% | 2.4% |