Updated: 26-Mar-20 09:43 ET


Updated: 26-Mar-20 09:43 ET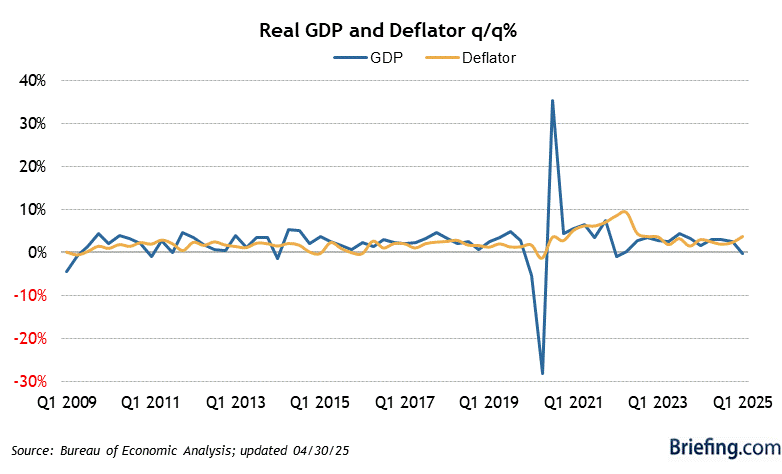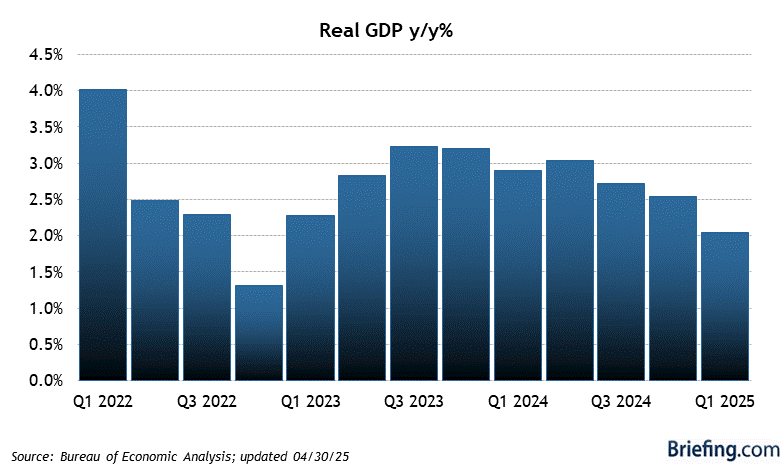 Highlights
The third estimate for Q4 GDP showed a 2.1% annualized rate of growth that was in-line with the second estimate and the Briefing.com consensus estimate.
Similarly, the GDP Price Deflator was left unchanged at 1.3%, as expected.
Key Factors
PCE growth was revised up to 1.8% from 1.7%.
Gross private domestic investment was unchanged at -6.0%. Government spending was revised down to 2.5% from 2.6%.
The contribution from net exports was revised to 1.51 percentage points from 1.53 percentage points.
Real final sales of domestic product, which exclude the change in inventories, were up 3.1%, unchanged from the second estimate.
Big Picture
The key takeaway from the report is that it is inconsequential at this juncture. That would be the effective takeaway in normal times (we're less than a week away from the end of Q1), but things are no longer normal as the first quarter is ending with the U.S. economy in shutdown mode to help stop the spread of COVID-19.
| | | | | | |
| --- | --- | --- | --- | --- | --- |
| Category | Q4 | Q3 | Q2 | Q1 | Q4 |
| GDP | 2.1% | 2.1% | 2.0% | 3.1% | 1.1% |
| Inventories (change) | $13.1B | $69.4B | $69.4B | $116.0B | $93.0B |
| Final Sales | 3.1% | 2.1% | 3.0% | 2.6% | 1.0% |
| PCE | 1.8% | 3.1% | 4.6% | 1.1% | 1.4% |
| Nonresidential Inv. | -2.4% | -2.3% | -1.0% | 4.4% | 4.8% |
| Structures | -7.2% | -9.9% | -11.1% | 4.0% | -9.0% |
| Equipment | -4.3% | -3.8% | 0.8% | -0.1% | 7.4% |
| Intellectual Property | 2.8% | 4.7% | 3.6% | 10.8% | 11.7% |
| Residential Inv. | 6.5% | 4.6% | -3.0% | -1.0% | -4.7% |
| Net Exports | -$900.7B | -$990.1B | -$980.7B | -$944.0B | -$983.0B |
| Export | 2.1% | 0.9% | -5.7% | 4.1% | 1.5% |
| Imports | -8.4% | 1.8% | 0.0% | -1.5% | 3.5% |
| Government | 2.5% | 1.7% | 4.8% | 2.9% | -0.4% |
| GDP Price Index | 1.3% | 1.8% | 2.4% | 1.1% | 1.6% |