Updated: 26-Feb-21 09:20 ET


Updated: 26-Feb-21 09:20 ET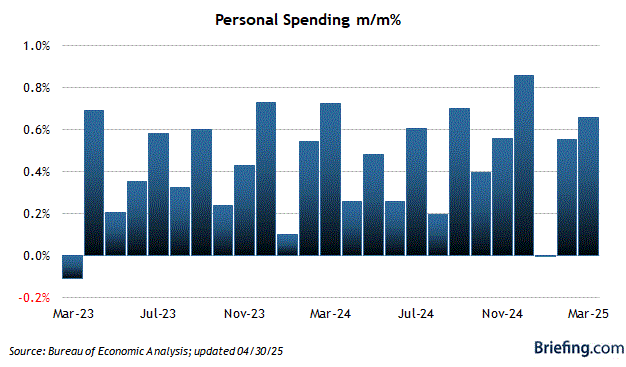 Highlights
Personal income, bolstered by government social benefits, soared 10.0% m/m in January (Briefing.com consensus 9.7%).
Personal spending increased 2.4% m/m (Briefing.com consensus +2.3%).
The PCE Price Index and Core PCE Price Index, which excludes food and energy, were both up 0.3%. That left yr/yr price changes at 1.5% (from 1.3% in December) and 1.5% (from 1.4% in December), respectively.
Key Factors
The uptick in personal income was driven by a 0.7% increase in compensation, which was paced by a 0.7% increase in wages and salaries, and a 52% m/m increase in personal current transfer receipts.
Real disposable personal income surged 13.3% yr/yr, versus 2.8% in December.
Real personal spending declined 1.9% yr/yr following a 3.4% decline in December.
Big Picture
The key takeaway from the report is twofold: (1) it shows aggregate inflation pressures were still tame in January and (2) the report exposes the potential for a major pickup in spending by way of a personal savings rate that stands at 20.5% as a percentage of disposable personal income (and that's before the next round of stimulus checks get sent out)!
| | | | | | |
| --- | --- | --- | --- | --- | --- |
| Category | JAN | DEC | NOV | OCT | SEP |
| Personal Income | | | | | |
| Total Income | 10.0% | 0.6% | -1.2% | -0.7% | 07% |
| Wage and Salary | 0.7% | 0.5% | 0.5% | 0.8% | 0.8% |
| Disposable Income | 11.4% | 0.6% | -1.4% | -0.8% | 0.7% |
| Savings Rate | 20.5% | 13.4% | 12.5% | 13.2% | 14.1% |
| Personal Consumption | | | | | |
| Total (Nominal) | 2.4% | -0.4% | -0.6% | 0.2% | 1.3% |
| Total (Real, Chain $) | 2.0% | -0.8% | -0.6% | 0.2% | 1.1% |
| Core PCE Deflator | | | | | |
| Month/Month | 0.3% | 0.3% | 0.0% | 0.0% | 0.2% |
| Year/Year | 1.5% | 1.4% | 1.4% | 1.4% | 1.5% |