Updated: 01-Aug-17 10:02 ET


Updated: 01-Aug-17 10:02 ET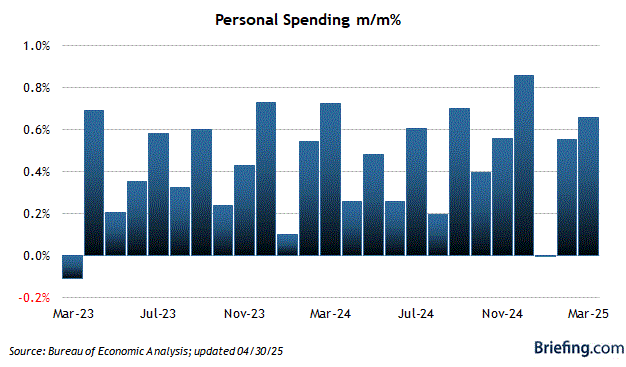 Highlights
Personal income was unchanged in June (Briefing.com consensus +0.3%) while personal spending was up 0.1% as expected. The data were embedded in the advance Q2 GDP estimate released on Friday.
The PCE Price Index was unchanged in June while the core PCE Price Index, which excludes food and energy, increased 0.1% as expected.
Key Factors
The PCE Price Index is up 1.4% for the 12 months ending in June versus 1.5% for the 12 months ending in May. The core PCE Price Index is up 1.5%, which is unchanged from the 12-month period ending in May. The trend of disinflation is moderating, then, yet the inflation rate still remains below the Fed's longer-run target of 2.0%.
Decreases in personal dividend income (-3.0%) and personal interest income (-1.0%) were key drags on personal income in June. Their negative impact was offset to a large extent, however, by a 0.4% increase in wages and salaries.
Real disposable personal income was up 1.4% year-over-year (vs. 1.4% in May) while real PCE was up 2.4% (vs. 2.7%) in May
The personal savings rate as a percentage of disposable income dipped to 3.8% from 3.9% in May
Big Picture
The key takeaway from the report is that the inflation data supported the market's preconception that the Fed is unlikely to raise the target range for the fed funds rate at its September meeting.
| | | | | | |
| --- | --- | --- | --- | --- | --- |
| Category | JUN | MAY | APR | MAR | FEB |
| Personal Income | | | | | |
| Total Income | 0.0% | 0.3% | 0.2% | 0.3% | 0.5% |
| Wage and Salary | 0.4% | 0.1% | 0.6% | 0.1% | 0.7% |
| Disposable Income | 0.0% | 0.4% | 0.2% | 0.3% | 0.5% |
| Savings Rate | 3.8% | 3.9% | 3.7% | 3.9% | 4.1% |
| Personal Consumption | | | | | |
| Total (Nominal) | 0.1% | 0.2% | 0.3% | 0.5% | 0.1% |
| Total (Real, Chain $) | 0.0% | 0.2% | 0.1% | 0.7% | 0.0% |
| Core PCE Deflator | | | | | |
| Month/Month | 0.1% | 0.1% | 0.2% | -0.2% | 0.2% |
| Year/Year | 1.5% | 1.5% | 1.6% | 1.6% | 1.9% |