Updated: 17-Jul-18 09:44 ET


Updated: 17-Jul-18 09:44 ET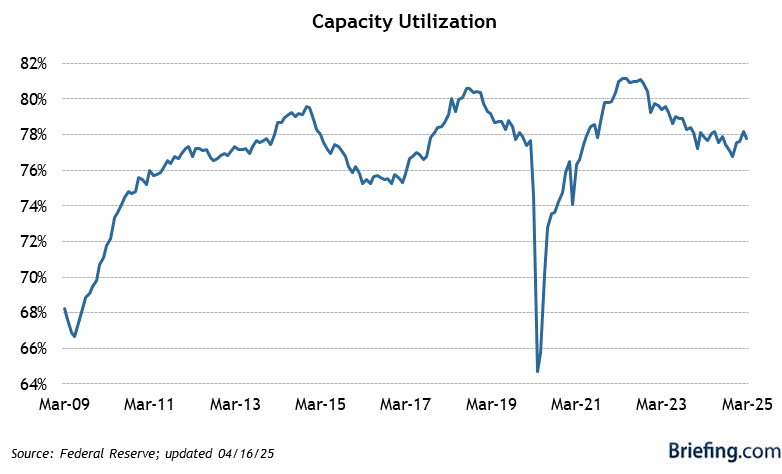 Highlights
Industrial production increased 0.6% in June (Briefing.com consensus +0.5%) following a downwardly revised 0.5% decline (from -0.1%) in May.
The capacity utilization rate ticked up to 78.0% in June (Briefing.com consensus 78.3%) from a downwardly revised 77.7% (from 77.9%) in May.
Key Factors
Manufacturing output increased 0.8% after declining 1.0% in May. Motor vehicle assemblies surged 9.4% month-over-month to a seasonally adjusted annual rate of 11.25 million units.
The index for mining increased 1.2% in June, surpassing the level of its previous historic peak in December 2014.
The output of utilities declined 1.5%, with a loss for electric utilities outweighing a gain for gas utilities.
Total industrial production increased 3.8% year-over-year and advanced at an annual rate of 6.0% for the second quarter as a whole.
The capacity utilization rate in June was 1.8 percentage points below its long-run (1972-2017) average.
Big Picture
The key takeaway from the report is that manufacturing output bounced back sharply, reflecting good underlying demand, after a fire at a truck assemblies parts supplier undercut output levels in May.
| | | | | | |
| --- | --- | --- | --- | --- | --- |
| Category | JUN | MAY | APR | MAR | FEB |
| Industrial Production | | | | | |
| Total Index | 0.6% | -0.5% | 1.1% | 0.5% | 0.4% |
| Manufacturing | 0.8% | -1.0% | 0.5% | -0.1% | 1.4% |
| Utilities | -1.5% | -0.7% | 5.7% | 4.2% | -9.6% |
| Mining | 1.2% | 2.2% | 0.7% | 1.4% | 2.8% |
| Capacity Utilization | | | | | |
| Total Industry | 78.0% | 77.7% | 78.2% | 77.5% | 77.2% |
| Manufacturing | 75.5% | 75.0% | 75.8% | 75.5% | 75.7% |