Updated: 01-Mar-23 10:55 ET


Updated: 01-Mar-23 10:55 ET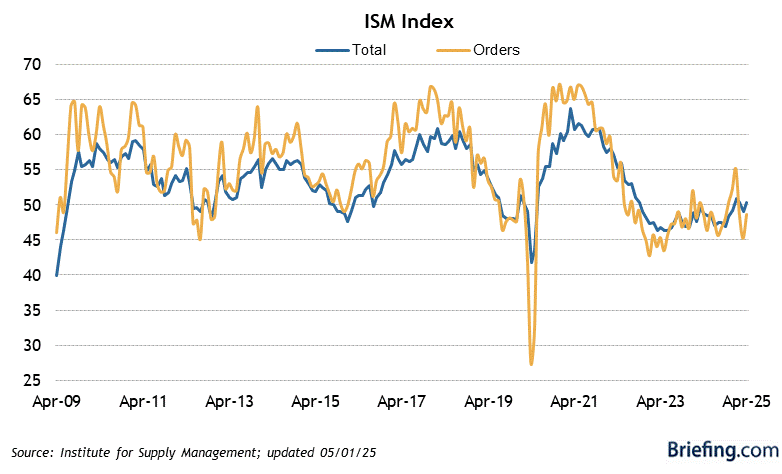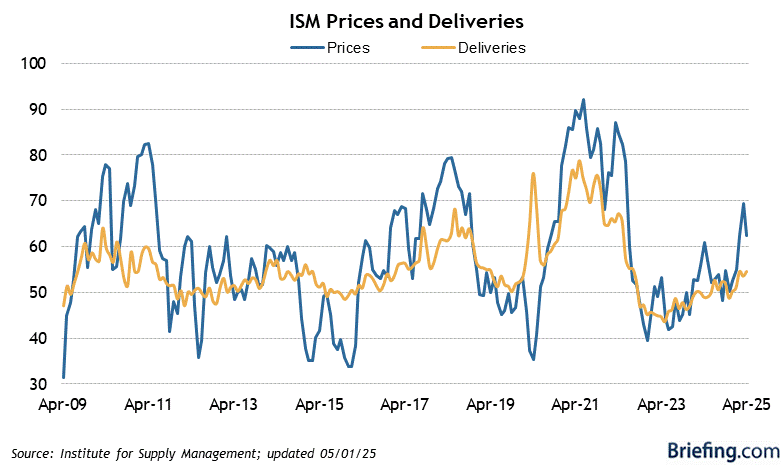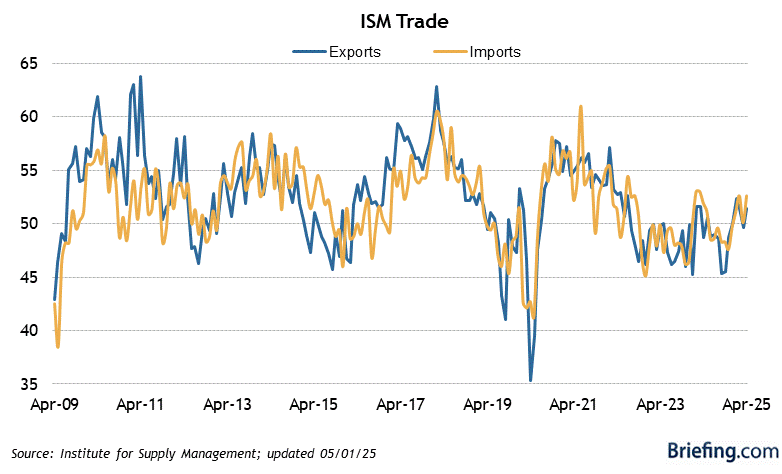 Highlights
The February ISM Manufacturing Index increased to 47.7% (Briefing.com consensus 47.8%) from 47.4% in January.
The dividing line between expansion and contraction is 50.0%, so the sub-50.0% reading for February reflects a general contraction in manufacturing activity for the fourth straight month.
Key Factors
The New Orders Index increased to 47.0% from 42.5%.
The Prices Index jumped to 51.3% from 44.5%.
The Backlog of Orders Index increased to 45.1% from 43.4%.
The Supplier Deliveries Index dipped to 45.2% from 45.6%.
The Production Index fell to 47.3% from 48.0%.
The New Export Orders Index rose to 49.9% from 49.4%.
The Employment Index dropped to 49.1% from 50.6%.
Big Picture
The key takeaway from the report is that manufacturing activity continued to contract in February, albeit at a slightly slower pace, yet it did so against a backdrop of prices increasing for the first time in four months in a move that will keep the Fed with a tightening bias.
| | | | | | |
| --- | --- | --- | --- | --- | --- |
| Category | FEB | JAN | DEC | NOV | OCT |
| Total Index | 47.7 | 47.4 | 48.4 | 49.0 | 50.2 |
| Orders | 47.0 | 42.5 | 45.2 | 47.2 | 49.2 |
| Production | 47.3 | 48.0 | 48.5 | 51.5 | 52.3 |
| Employment | 49.1 | 50.6 | 50.8 | 48.4 | 50.0 |
| Deliveries | 45.2 | 45.6 | 45.1 | 47.2 | 46.8 |
| Inventories | 50.1 | 50.2 | 52.3 | 50.9 | 52.5 |
| Export Orders | 49.9 | 49.4 | 46.2 | 48.4 | 46.5 |
| Prices paid (not seas adj) | 51.3 | 44.5 | 39.4 | 43.0 | 46.6 |