Updated: 04-Oct-17 10:24 ET


Updated: 04-Oct-17 10:24 ET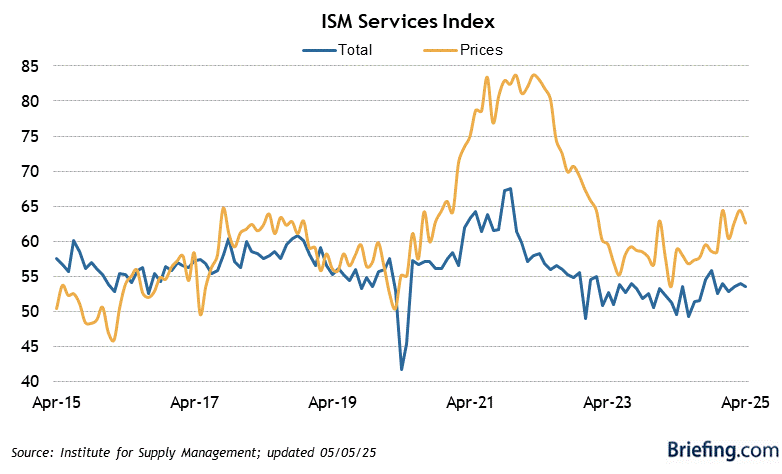 Highlights
Hurricanes Irma and Maria caused tremendous damage in September, yet they apparently didn't slow the pace of activity in the non-manufacturing sector. According to the ISM, the non-Manufacturing Index jumped from 55.3 in August to to 59.8 in September (Briefing.com consensus 55.3), which is the highest reading since August 2005.
Key Factors
The Prices Index increased from 57.9 to 66.3
The New Orders Index jumped from 57.1 to 63.0
The Employment Index edged up from 56.2 to 56.8
The Backlog of Orders Index rose from 53.5 to 56.0
According to the ISM, the non-Manufacturing reading for September corresponds to a 4.2% increase in real GDP on an annualized basis
Big Picture
The key takeaway from the report is that it gives the Federal Reserve some data-based ammunition to raise the fed funds rate in December since the Prices Index increased substantially and hit its highest level since February 2012, mirroring a big jump as well in the Prices Index for the ISM Manufacturing report.
| | | | | | |
| --- | --- | --- | --- | --- | --- |
| Category | SEP | AUG | JUL | JUN | MAY |
| Non-Manufacturing ISM index | 59.8 | 55.3 | 53.9 | 57.4 | 56.9 |
| Business Activity | 61.3 | 57.5 | 55.9 | 60.8 | 60.7 |
| New Orders | 63.0 | 57.1 | 55.1 | 60.5 | 57.7 |
| Employment | 56.8 | 56.2 | 53.6 | 55.8 | 57.8 |
| Deliveries (nsa) | 58.0 | 50.5 | 51.0 | 52.5 | 51.5 |
| Inventories (nsa) | 51.5 | 53.5 | 56.5 | 57.5 | 54.0 |
| Exports (nsa) | 56.0 | 55.0 | 53.0 | 55.0 | 54.5 |
| Imports (nsa) | 52.0 | 50.5 | 51.5 | 51.0 | 48.5 |
| Prices Paid | 66.3 | 57.9 | 55.7 | 52.1 | 49.2 |