Updated: 15-Jan-20 09:17 ET


Updated: 15-Jan-20 09:17 ET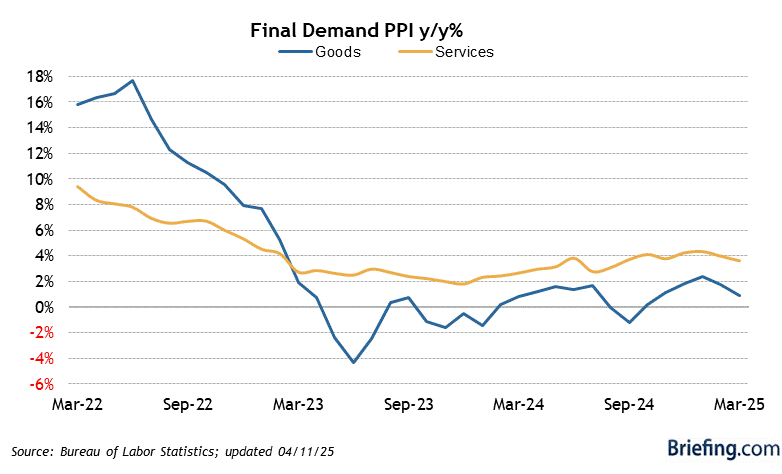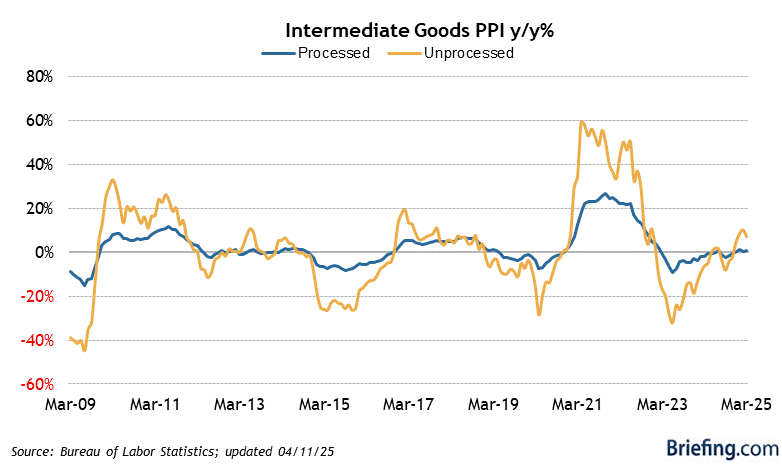 Highlights
The Producer Price Index for final demand increased 0.1% (Briefing.com consensus +0.2%) and so did the Producer Price index for final demand, excluding food and energy (Briefing.com consensus +0.2%). Those changes left the yr/yr increases at 1.3% and 1.1%, respectively, versus 1.1% and 1.3% in November.
Key Factors
The index for final demand goods rose 0.3%.
Prices for final demand services were unchanged.
The index for processed goods for intermediate demand increased 0.1%.
The index for unprocessed goods for intermediate demand jumped 1.8%, with more than half of the increase stemming from prices for foodstuffs and feedstuffs.
Big Picture
The key takeaway from the report is that it isn't going to convince the Federal Reserve that it needs to raise its policy rate soon.
| | | | | | |
| --- | --- | --- | --- | --- | --- |
| Category | DEC | NOV | OCT | SEP | AUG |
| Final Demand | 0.1% | 0.0% | 0.4% | -0.3% | 0.1% |
| Core (excluding ...) | | | | | |
| Food and Energy | 0.1% | -0.2% | 0.3% | -0.3% | 0.3% |
| Food, Energy, and Trade | 0.1% | 0.0% | 0.1% | 0.0% | 0.4% |
| Final Demand Goods | | | | | |
| Total | 0.3% | 0.3% | 0.7% | -0.4% | -0.5% |
| Energy | 1.5% | 0.6% | 2.8% | -2.5% | -2.5% |
| Finished Goods | 0.4% | 0.5% | 0.8% | -0.5% | -0.6% |
| Final Demand Services | | | | | |
| Total | 0.0% | -0.3% | 0.3% | -0.2% | 0.3% |
| Trade | -0.3% | -0.6% | 0.8% | -1.0% | 0.2% |
| Intermediate Demand | | | | | |
| Processed | 0.1% | 0.2% | 0.4% | -0.4% | -0.7% |
| Unprocessed | 1.8% | 3.9% | 1.0% | -1.4% | -1.0% |
| Services | 0.4% | -0.1% | -0.2% | 0.1% | 0.5% |