Updated: 03-Nov-22 09:46 ET


Updated: 03-Nov-22 09:46 ET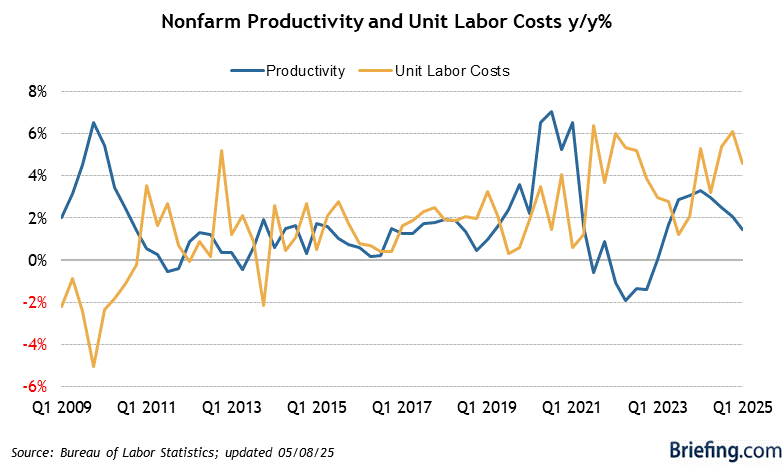 Highlights
Q3 Productivity increased 0.3% (Briefing.com consensus +0.5%) following an unrevised 4.1% decline in the second quarter.
Unit labor costs jumped 3.5% (Briefing.com consensus +4.2%) following a downwardly revised 8.9% increase (from 10.2%) in the second quarter.
Key Factors
The increase in Q3 productivity stemmed from a 2.8% increase in output and a 2.4% increase in hours worked.
The increase in unit labor costs reflected a 3.8% increase in hourly compensation and a 0.3% increase in productivity.
Big Picture
The key takeaway from the report is that nonfarm business sector labor productivity decreased 1.4% from the same quarter a year ago, and the 1.4% decline marked the first time since 1982 that there have been three consecutive declines in this measure.
| | | | | | |
| --- | --- | --- | --- | --- | --- |
| Category | Q3 | Q2 | Q1 | Q4 | Q3 |
| Nonfarm Business Sector | | | | | |
| Productivity Q/Q | 0.3% | -4.1% | -5.9% | 4.4% | -2.4% |
| Unit Labor Costs Q/Q | 3.5% | 8.9% | 8.5% | 3.6% | 9.3% |
| Productivity Y/Y | -1.4% | -2.0% | -0.3% | 2.0% | -0.3% |
| Unit Labor Costs Y/Y | 6.2%% | 7.7% | 6.6% | 3.3% | 5.8% |