Updated: 15-Aug-17 09:33 ET


Updated: 15-Aug-17 09:33 ET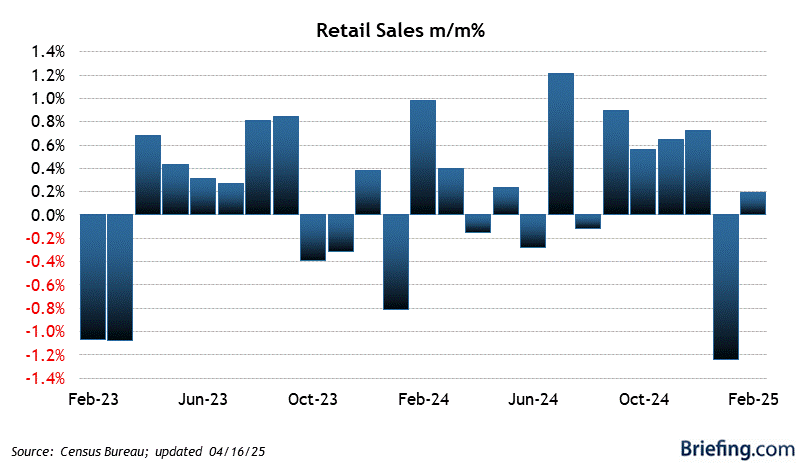 Highlights
Retail sales for July exceeded expectations, increasing 0.6% (Briefing.com consensus 0.4%) on the back of an upwardly revised 0.3% increase in June (from -0.2%). Retail sales, excluding autos, also beat expectations, rising 0.5% (Briefing.com consensus 0.3%) and the June reading was revised up to 0.1% from -0.2%.
Key Factors
Core retail sales, which exclude auto, gasoline station, building materials, and food services & drinking places sales, increased 0.5% and the June decline of 0.1% was revised to an uptick of 0.1%.
A 1.2% increase in sales at auto & other motor vehicle dealers and a comparable increase at building material & garden equipment & supplies dealers paced the overall increase.
Sales at electronics and appliance stores (-0.5%) and gasoline stations (-0.4%) were among the pockets of relative weakness.
Big Picture
Core retail sales is the component that factors into the PCE goods component of the GDP report, so the key takeaway from the retail sales data is that it points to a rebound in spending on consumer goods in July after a weak finish to the second quarter. This should be a positive input for Q2 GDP models.
| | | | | | |
| --- | --- | --- | --- | --- | --- |
| Category | JUL | JUN | MAY | APR | MAR |
| Retail Sales | 0.6% | 0.3% | 0.0% | 0.3% | 0.1% |
| Excluding Autos | 0.5% | 0.1% | -0.2% | 0.3% | 0.3% |
| Durable goods | | | | | |
| Building Materials | 1.2% | 1.1% | -0.2% | -0.1% | -1.8% |
| Autos/parts | 1.2% | 0.9% | 1.1% | 0.5% | -0.5% |
| Furniture | 0.4% | 0.5% | 1.0% | -0.5% | 1.7% |
| Nondurable goods | | | | | |
| General Merchandise | 0.1% | 0.4% | -0.4% | 0.9% | 0.1% |
| Food | 0.4% | -0.7% | 0.0% | 0.2% | 0.6% |
| Gasoline stations | -0.4% | -1.5% | -3.1% | -0.5% | -1.0% |
| Clothing | -0.2% | 0.7% | 0.0% | 0.2% | 2.0% |
| e*retailing/non-store | 1.3% | 1.0% | 1.0% | 0.6% | 1.2% |