Updated: 15-Oct-21 09:23 ET


Updated: 15-Oct-21 09:23 ET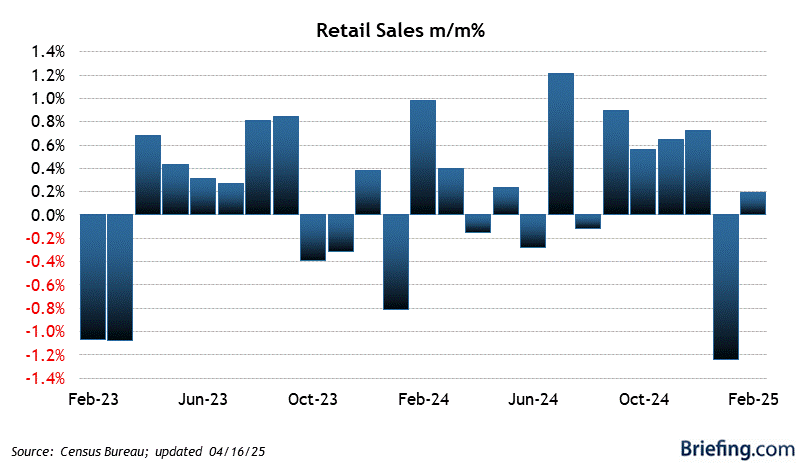 Highlights
Total retail sales in September were up 0.7% month-over-month (Briefing.com consensus -0.3%) following an upwardly revised 0.9% increase (from 0.7%) in August.
Excluding autos, retail sales jumped 0.8% month-over-month (Briefing.com consensus +0.4%) following an upwardly revised 2.0% increase (from 1.8%) in August.
Key Factors
Monthly increases were logged in all categories with the exception of electronics and appliance stores (-0.9%) and health and personal care stores (-1.4%).
Motor vehicle and parts sales rose 0.5% after a 3.3% decline in August.
Gasoline station sales increased 1.8% on top of a 1.0% increase in August.
General merchandise store sales rose 2.0% after increasing 3.4% in August.
Food services and drinking places sales increased 0.3% after increasing 0.2% in August.
Big Picture
Given the current inflation environment, it's worth noting that retail sales are adjusted for seasonal factors, but not for price changes. In other words, the jump in sales was likely aided by inflation.
The key takeaway from the report is the recognition that the broad-based sales increases reflect a rebound from some of the Delta-related restraint shown in August and presumably price increases that are a byproduct of supply chain constraints and higher transportation costs.
| | | | | | |
| --- | --- | --- | --- | --- | --- |
| Category | SEP | AUG | JUL | JUN | MAY |
| Retail Sales | 0.7% | 0.9% | -1.6% | 0.9% | -1.4% |
| Excluding Autos | 0.8% | 2.0% | -0.9% | 1.7% | -0.4% |
| Durable goods | | | | | |
| Building Materials | 0.1% | 1.1% | -1.1% | -1.4% | -5.7% |
| Autos/parts | 0.5% | -3.3% | -4.3% | -2.1% | -4.6% |
| Furniture | 0.2% | 1.8% | -0.3% | -1.6% | -2.1% |
| Nondurable goods | | | | | |
| General Merchandise | 2.0% | 3.4% | -1.1% | 2.4% | -2.9% |
| Food | 0.7% | 2.2% | -0.6% | 1.0% | 1.2% |
| Gasoline stations | 1.8% | 1.0% | 2.4% | 3.6% | 1.8% |
| Clothing | 1.1% | 0.4% | -2.6% | 3.4% | 3.8% |
| e*retailing/non-store | 0.6% | 5.7% | -4.6% | 0.1% | -1.2% |