Updated: 14-Jun-17 09:36 ET


Updated: 14-Jun-17 09:36 ET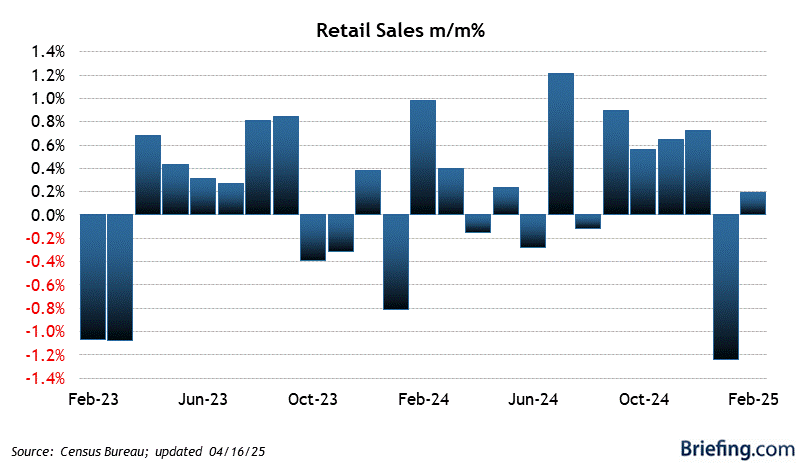 Highlights
Total retail sales decreased 0.3% in May (Briefing.com consensus 0.0%) while retail sales, excluding autos, also decreased 0.3% (Briefing.com consensus +0.2%).
Key Factors
Core retail sales, which exclude auto, gasoline station, building materials, and food services sales, were basically flat versus April
A drop in electronics and appliance store (-2.8%), gasoline station (-2.4%), and motor vehicle (-0.2%) sales were key drags on overall sales, yet there wasn't much strength seen in general
Nonstore retailers (+0.8%) were the notable exception in terms of sales strength. Clothing and clothing accessories stores sales increased 0.3%.
Big Picture
The key takeaway from this report is that consumers clearly remain guarded with their discretionary spending activity, which is likely the result of seeing little, if any, wage growth.
| | | | | | |
| --- | --- | --- | --- | --- | --- |
| Category | MAY | APR | MAR | FEB | JAN |
| Retail Sales | -0.3% | 0.4% | 0.1% | -0.2% | 0.5% |
| Excluding Autos | -0.3% | 0.4% | 0.3% | 0.1% | 1.1% |
| Durable goods | | | | | |
| Building Materials | 0.0% | 0.6% | -1.8% | 2.7% | 1.4% |
| Autos/parts | -0.2% | 0.5% | -0.5% | -1.5% | -1.6% |
| Furniture | 0.4% | -0.3% | 1.7% | 0.4% | 1.8% |
| Nondurable goods | | | | | |
| General Merchandise | -0.3% | 0.7% | 0.1% | -0.7% | 1.4% |
| Food | 0.1% | 0.2% | 0.6% | 0.0% | 2.2% |
| Gasoline stations | -2.4% | 0.0% | -1.0% | 0.0% | 2.2% |
| Clothing | 0.3% | 0.2% | 2.0% | -2.6% | 0.7% |
| e*retailing/non-store | 0.8% | 0.9% | 1.2% | 0.8% | 0.3% |