Updated: 06-Jun-18 09:40 ET


Updated: 06-Jun-18 09:40 ET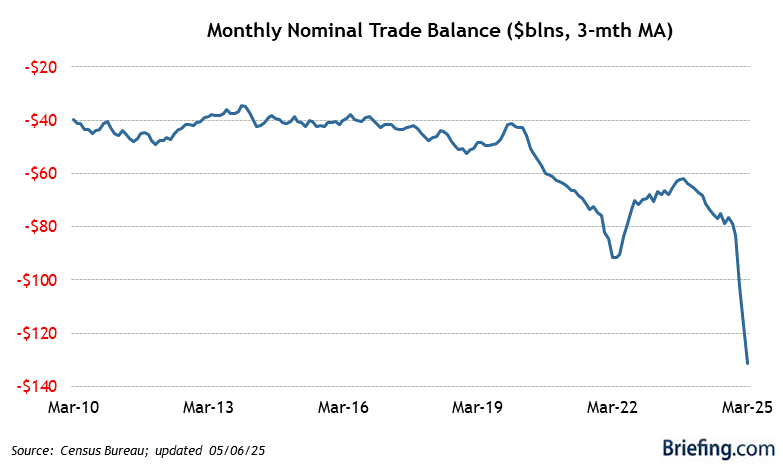 Highlights
The trade deficit was better than expected in April, narrowing to $46.2 billion (Briefing.com consensus -$48.8 billion) from an upwardly revised $47.2 billion (from -$49.0 billion) in March.
The narrowing was the result of exports being $0.6 billion more than March exports and imports being $0.4 billion less than March imports.
Key Factors
Exports of industrial supplies and materials increased $1.3 billion. Exports of capital goods decreased $1.4 billion, which was owed to a $2.8 billion decline in exports of civilian aircraft.
Imports of consumer goods decreased $2.8 billion, driven in large part by a $2.2 billion decrease in cell phones and other household goods
Imports of autos, parts, and engines decreased $0.9 billion
Imports of industrial supplies and materials jumped $1.2 billion, bolstered by a $1.0 billion increase in crude oil imports
The trade deficit with China decreased $3.4 billion to $30.8 billion in April, as exports decreased $1.4 billion and imports decreased $4.7 billion
Big Picture
The key takeaway from the report is that the real goods deficit in April was 6.0% less than the first quarter average, which suggests net exports should be factored as a positive input for upbeat Q2 GDP growth forecasts.
| | | | | | |
| --- | --- | --- | --- | --- | --- |
| Category | APR | MAR | FEB | JAN | DEC |
| Trade Deficit | -$46.2B | -$47.2B | -$55.5B | -$52.9B | -$51.9B |
| Exports | $211.2B | $210.7B | $206.1B | $202.5B | $205.0B |
| Imports | $257.4B | $257.9B | $261.6B | $255.4B | $256.9B |