Updated: 04-Nov-21 09:47 ET


Updated: 04-Nov-21 09:47 ET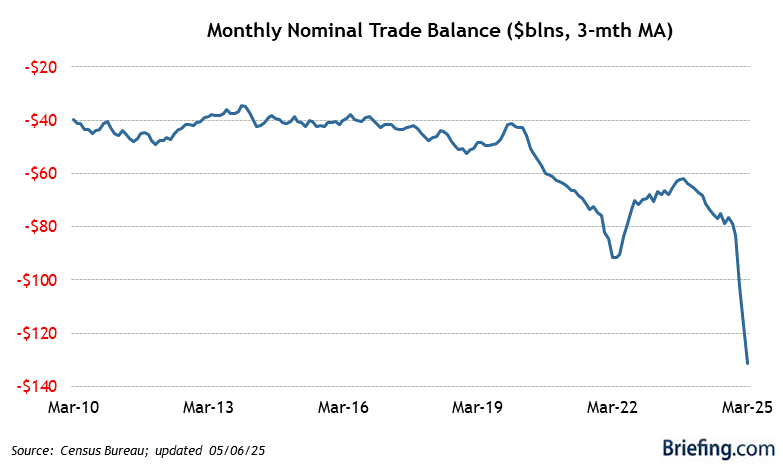 Highlights
The September trade deficit was worse than expected, hitting a record high $80.9 billion (Briefing.com consensus $71.0 billion) after an upwardly revised $72.8 billion deficit (from $73.3 billion) in August.
Key Factors
September exports of $207.6 billion were $6.4 billion less than August exports. September imports of $288.5 billion were $1.7 billion more than August imports.
Exports of industrial supplies and materials decreased $5.7 billion, with exports of nonmonetary gold decreasing $1.9 billion and exports of crude oil decreasing $1.0 billion.
Capital goods exports decreased $1.6 billion.
Exports of consumer goods increased $0.7 billion, driven by a $1.5 billion increase in exports of pharmaceutical preparations.
Imports of capital goods increased $2.5 billion.
Imports of automotive vehicles, parts, and engines decreased $2.2 billion.
The goods deficit with China increased $3.4 billion to $31.5 billion, as exports decreased $0.2 billion and imports increased $3.2 billion.
Big Picture
The key takeaway from the report is the connection that supply chain issues, transportation bottlenecks, and COVID prevention measures have detracted from global trading activity.
| | | | | | |
| --- | --- | --- | --- | --- | --- |
| Category | SEP | AUG | JUL | JUN | MAY |
| Trade Deficit | -$80.9B | -$72.8B | -$70.3B | -$73.2B | -$68.5B |
| Exports | $207.6B | $214.0B | $212.7B | $210.1B | $208.7B |
| Imports | $288.5B | $286.8B | $283.0B | $283.3B | $277.2B |