Updated: 02-Jul-21 09:38 ET


Updated: 02-Jul-21 09:38 ET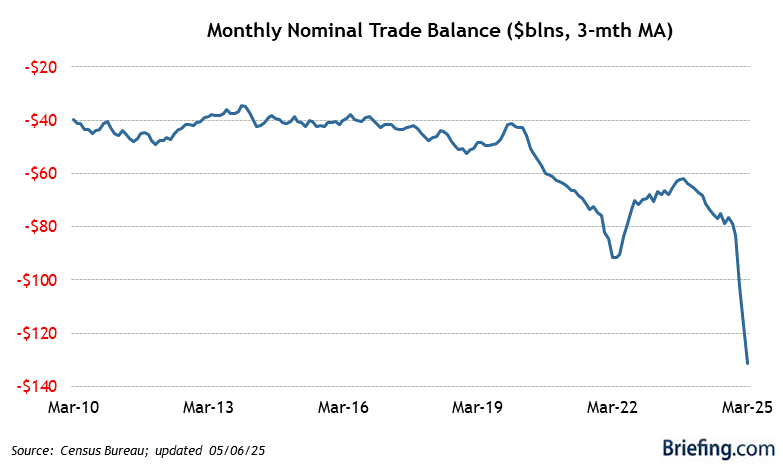 Highlights
The Trade Balance report for May showed a widening in the deficit to -$71.2 billion (Briefing.com consensus -$71.4 billion) from a downwardly revised $69.1 billion (from -$68.9 billion) in April. May exports were $1.3 billion more than April exports while May imports were $3.5 billion more than April imports.
Key Factors
Exports of goods increased $0.4 billion, led by a $1.0 billion increase in consumer goods, the bulk of which was pharmaceutical preparations.
Imports of goods increased $2.7 billion, paced by a $2.6 billion increase in industrial supplies and materials, more than half of which was crude oil and fuel oil. Capital goods decreased $1.1 billion.
The goods deficit with China decreased $5.1 billion to $27.2 billion in May, with exports decreasing less than $0.1 billion and imports decreasing $5.2 billion.
The real trade deficit of $101.8 billion left the Q2 average 1.4% below the first quarter average deficit of $101.67 billion. That will be accounted for as a positive input in Q2 GDP growth forecasts.
Big Picture
The key takeaway from the report is the recognition that the export of goods increased just $0.4 billion, helped by a $0.8 billion increase in pharmaceutical preparations. In other words, foreign demand for U.S. goods was on the soft side in May, which will play into the peak growth narrative.
| | | | | | |
| --- | --- | --- | --- | --- | --- |
| Category | MAY | APR | MAR | FEB | JAN |
| Trade Deficit | -$71.2B | -$69.1B | -$75.0B | -$70.6B | -$67.1B |
| Exports | $206.0B | $204.7B | $202.7B | $188.6B | $193.2B |
| Imports | $277.3B | $273.8B | $277.7B | $259.2B | $260.3B |