Updated: 04-May-23 09:40 ET


Updated: 04-May-23 09:40 ET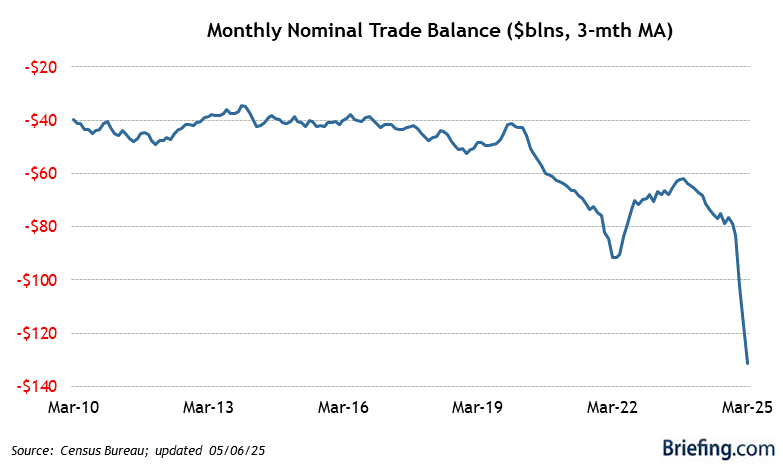 Highlights
The March trade deficit narrowed to $64.2 billion (Briefing.com consensus -$68.7 billion) from a downwardly revised $70.6 billion (from -$70.5 billion) in February.
Exports were $5.3 billion more than February exports and imports were $1.1 billion less than February imports.
Key Factors
Exports of industrial supplies and materials increased $3.9 billion with crude oil exports up $2.5 billion.
Exports of automotive vehicles, parts, and engines increased $0.7 billion.
Imports of capital goods decreased $1.9 billion.
Imports of industrial supplies and materials decreased $1.4 billion.
Imports of consumer goods increased $2.4 billion.
The deficit with China decreased $2.3 billion to $22.9 billion, as exports increased $1.3 billion and import decreased $0.9 billion.
Big Picture
The key takeaway from the report is that the relatively weak import activity in March is in keeping with a cooling down of the U.S. economy.
| | | | | | |
| --- | --- | --- | --- | --- | --- |
| Category | MAR | FEB | JAN | DEC | NOV |
| Trade Deficit | -$64.2B | -$70.6B | -$68.7B | -$67.2B | -$60.6B |
| Exports | $256.2B | $250.8B | $258.0B | $249.0B | $252.0B |
| Imports | $320.4B | $321.4B | $326.7B | $316.2B | $312.6B |