Updated: 06-Feb-18 09:21 ET


Updated: 06-Feb-18 09:21 ET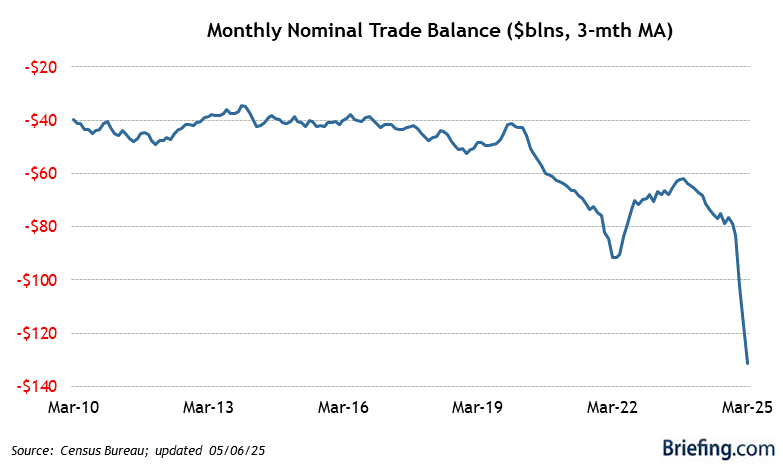 Highlights
The Trade Balance Report for December showed a widening in the deficit to $53.1 billion (Briefing.com consensus -$52.3 billion) from a revised $50.4 billion (from -$50.5 billion) in November. The widening was a result of exports increasing $3.5 billion and imports increasing $6.2 billion.
Key Factors
The export growth in December was led by industrial supplies and materials (+$1.5 billion) and capital goods (+$1.2 billion)
The import growth in December was led by consumer goods (+$3.2 billion), more than half of which was tied to imports of cell phones and other household goods (+$1.7 billion), as well as automotive vehicles (+$1.1 billion). Capital goods imports increased $0.8 billion.
The real trade deficit averaged $66.8 billion in the fourth quarter, up 8% from the third quarter average
For 2017, the trade deficit with China increased $28.2 billion to $375.2 billion
For 2017, the trade deficit with Mexico increased $6.7 billion to $71.1 billion
Big Picture
The December trade deficit was the largest since October 2008 and it revealed increased trade deficits with the European Union and China. The key takeaway from the report, then, is that it is apt to feed concerns about protectionist trade policies being adopted in an attempt to narrow those trade deficits.
| | | | | | |
| --- | --- | --- | --- | --- | --- |
| Category | DEC | NOV | OCT | SEP | AUG |
| Trade Deficit | -$53.1B | -$50.4B | -$48.9B | -$44.8B | -$44.2B |
| Exports | $203.4B | $199.8B | $195.3B | $195.4B | $193.3B |
| Imports | $256.5B | $250.2B | $244.1B | $240.3B | $237.5B |