Updated: 08-Dec-17 10:42 ET


Updated: 08-Dec-17 10:42 ET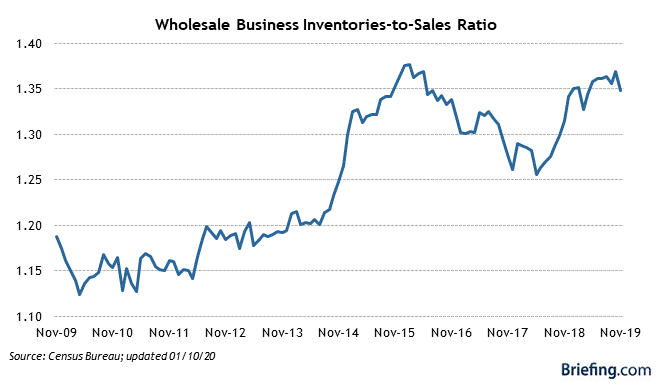 Highlights
Wholesale inventories declined 0.5% in October (Briefing.com consensus -0.4%) following a downwardly revised 0.1% increase (from 0.3%) in September.
Wholesale sales jumped 0.7% in October after increasing an upwardly revised 1.4% (from 1.3%) in September.
Key Factors
Durable inventories increased 0.1% in October,led by a 0.3% jump in machinery inventories. A 0.7% decline in automotive inventories and a 0.6% decline in electrical inventories held back the overall increase in durable inventories.
Nondurable inventories declined 1.3%, led by a 3.7% decrease in farm products inventories, a 2.7% decline in miscellaneous nondurable inventories, and a 2.5% decrease in drug inventories
The inventory-to-sales ratio slipped to 1.25 in October from 1.26 in September, and was down from 1.30 in the same period a year ago
On a year-over-year basis, total inventories were up 3.9% while total sales were up 8.4%
Big Picture
The key takeaway from the report is that the sales increase outpaced the inventory increase by a sizable margin, which is a step in the right direction for wholesalers trying to regain some pricing power.
The market doesn't typically pay much attention to this release since the full business inventories report is usually released a short time later.
| | | | | | |
| --- | --- | --- | --- | --- | --- |
| Category | OCT | SEP | AUG | JUL | JUN |
| Inventories | -0.5% | 0.1% | 0.8% | 0.6% | 0.6% |
| Sales | 0.7% | 1.4% | 1.9% | 0.0% | 0.7% |
| Inventory/Sales | 1.25 | 1.26 | 1.28 | 1.29 | 1.29 |