Updated: 09-Aug-17 10:35 ET


Updated: 09-Aug-17 10:35 ET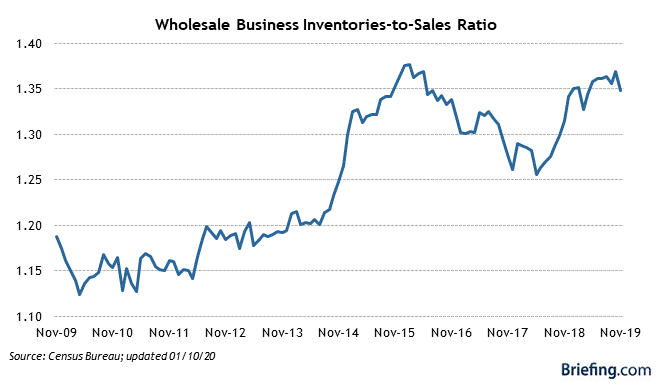 Highlights
Wholesale inventories increased 0.7% in June (Briefing.com consensus 0.6%) following an upwardly revised 0.6% increase (from 0.4%) in May.
Wholesale sales were also up 0.7% in June on the heels of an upwardly revised 0.1% decline (from -0.5%) in May.
Key Factors
Durable inventories increased 0.5% in June, paced by a 1.5% increase in professional equipment inventories, as well as a 1.4% increase in automotive inventories and a 0.5% increase in machinery inventories.
Nondurable inventories were up 1.0%, led by a 2.4% increase in drug inventories.
The inventory-to-sales ratio held steady at 1.29 in June, but was down from 1.32 in the same period a year ago.
On a year-over-year basis, total inventories were up 2.8% while total sales were up 5.5%.
The market doesn't typically pay much attention to this release since the full business inventories report is usually released a short time later.
Big Picture
The key takeaway from the report is that there wasn't any progress in reducing the inventory-to-sales ratio, which would be helpful for wholesalers looking to gain some more pricing power.
| | | | | | |
| --- | --- | --- | --- | --- | --- |
| Category | JUN | MAY | APR | MAR | FEB |
| Inventories | 0.7% | 0.6% | -0.4% | 0.1% | 0.3% |
| Sales | 0.7% | -0.1% | -0.3% | -0.2% | 0.7% |
| Inventory/Sales | 1.29 | 1.29 | 1.28 | 1.28 | 1.28 |