Updated: 10-Apr-18 10:20 ET


Updated: 10-Apr-18 10:20 ET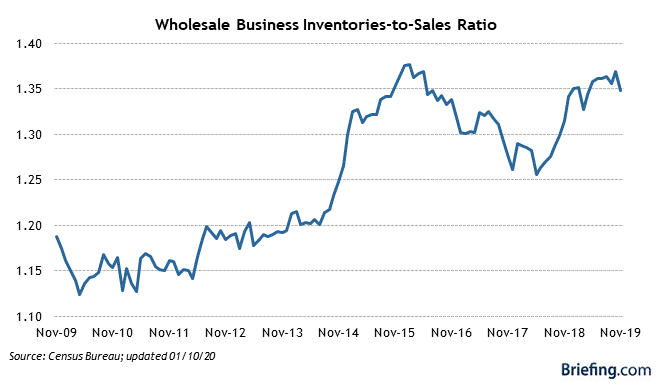 Highlights
Wholesale inventories increased 1.0% in February (Briefing.com consensus +1.1%) following an upwardly revised 0.9% increase (from +0.8%) in January.
Wholesale sales also increased 1.0% in February after declining a downwardly revised 1.5% (from -1.1%) in January.
Key Factors
Inventories were up across all categories with the exception of automotive (-0.6%). Nondurable inventories increased 0.8%, led by a 5.7% increase in farm products inventories and a 1.0% jump in groceries inventories.
The inventory-to-sales ratio held steady at 1.26 in February, yet it was below the 1.28 ratio seen in the same period a year ago
On a year-over-year basis, total inventories were up 5.5% while total sales were up 6.8%
Big Picture
The market doesn't typically pay much attention to this release since the full business inventories report is usually released a short time later. Durable inventories increased 1.1% in February.
| | | | | | |
| --- | --- | --- | --- | --- | --- |
| Category | FEB | JAN | DEC | NOV | OCT |
| Inventories | 1.0% | 0.9% | 0.7% | 0.6% | -0.4% |
| Sales | 1.0% | -1.5% | 0.8% | 1.9% | 0.8% |
| Inventory/Sales | 1.26 | 1.26 | 1.23 | 1.23 | 1.25 |